Holiday Inn Pattaya, a SHA Plus+ Hotel: Special Promotions for Your Next Holiday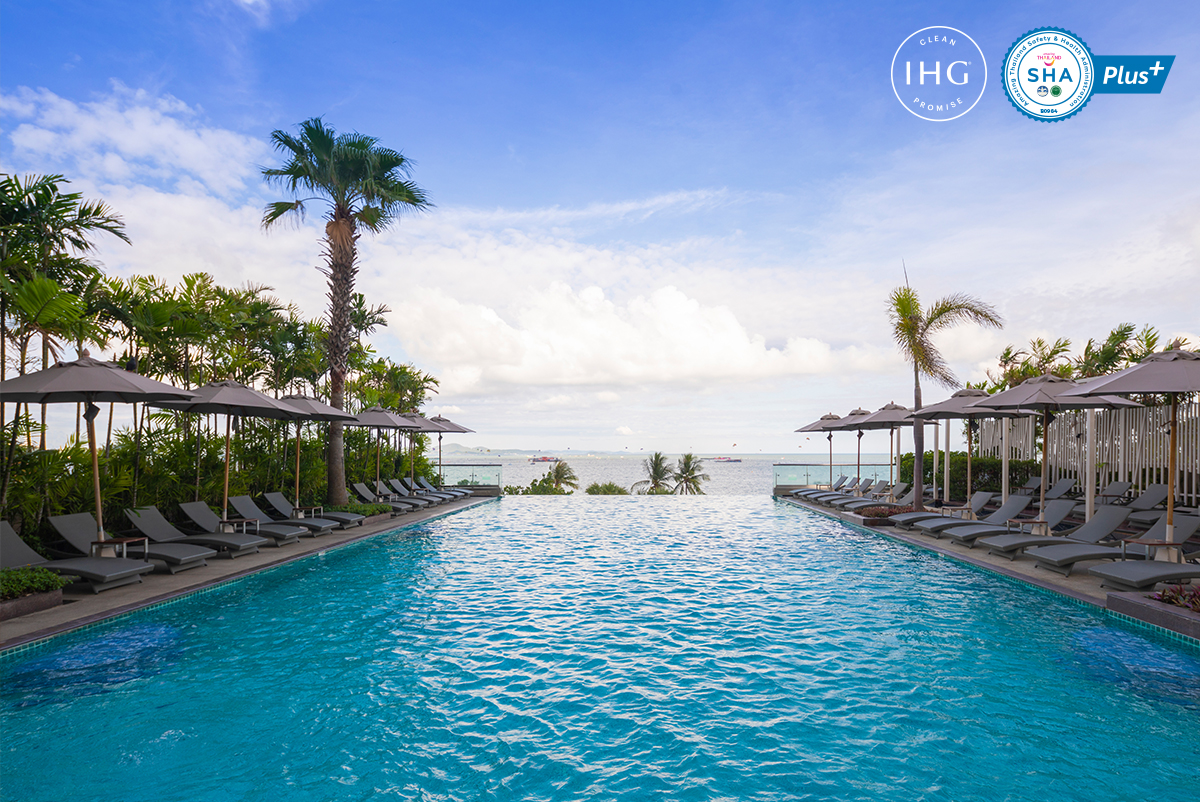 أخيرًا فتحت تايلاند حدودها الآن للسفر بلا حجر صحي مما يعني أنه قد حان الوقت لحجز عطلتك القادمة.
أقبل إلى أرض الابتسامات وتوجه إلى مدينة باتايا حيث الشمس المشرقة والشواطئ التي توفر الملاذ المثالي سواء للاسترخاء أو الاستكشاف أو قضاء وقت مسلٍ وممتع. إذا كنت تبحث عن فندق في باتايا، فمن المهم البحث عن أحد فنادق +Sha Plus في باتايا لضمان سلامة سفرياتك.
ما فنادق +Sha Plus في باتايا؟
فنادق +Sha Plus في باتايا هي فنادق تشترط تلقي 70% على الأقل من موظفيها جميع اللقاحات، بينما لا يُسمح لعاملي الفندق غير المحصنين باللقاحات بالتواصل عن قرب مع الضيوف.
إضافة إلى ذلك، تدرِّب فنادق +Sha Plus في باتايا موظفيها على التنبه إلى التدبير المتخذة في حالات الطوارئ المتعلقة بجائحة كوفيد-19. يُضاف إلى ذلك اعتماد هذه الفنادق من الجهات الحكومية المختصة.
من ذلك المنطلق، يوفر هوليداي إن باتايا، وهو أحد فنادق +Sha Plus في باتايا، مكانًا رائعًا للإقامة بفضل موقعه المركزي مباشرة على طول الشاطئ الأشهر في المدينة، المعروف باسم بيتش رود.
Holiday Inn Pattaya SHA Plus+ Hotel Package: Test & Go
As a SHA Plus+ hotel in Pattaya, we offer a package that is especially made for these unprecedented times with our Test & Go offer. With this package, you can enjoy stunning views from our Standard Ocean View Room which starts at THB 8,800 per person. It also includes the following:
● Daily breakfast
● One-way limousine from airport to hotel
● One-time RT-PCR test
● Antigen Test Kit (ATK)
● 20% discount on food and beverage
Do take note that there is an additional surcharge for an extra person at THB 2,000 net which includes breakfast, RT-PCR test and ATK.
Check Out Our Other Offers Too!
Additionally, we also have other ongoing promotions that are perfect for travelers that are looking to get the best bang for their buck.
● Breakfast Stay: Wake up and enjoy a delicious breakfast priced at THB 5 for two people, as well as a late check-out at 4pm. You can even get a complimentary upgrade to the next room category.
● Sea Sand Fun Package: Enjoy breakfast for two adults and two kids (under ages of 12), a complimentary sand toy set and dolphin doll, as well as 20% off food and spa! You can also test your cooking skills with a free family cooking class, complete with complimentary ice cream.
● Spoil Yourself Package: Pamper yourself with this ultimate package of breakfast for two persons, aromatherapy massage for 60 minutes, one set of afternoon high tea, and two glasses of sparkling wine!
● Family Fun Glamping: Have a fun-filled holiday with your little ones. This package offers a stay in our one King, one Bedroom Suite. It also comes with a kids' play tent with a soft topper, breakfast for two adults and kids' breakfast for two children, as well as a dolphin doll, welcome pack, kids' robes, slippers to take-home, one afternoon tea set, delicious ice cream, and milkshakes. One complimentary rollaway bed for children under 12 years old is also offered.
● The Ultimate Summer Package: Enjoy the sun and fresh air with this summer package that offers a stay at our Standard Ocean View which starts from THB 3,500. Complete with breakfast for two persons, we'll also give you one set of barbecue seafood (size S), while kids can stay and eat for free!
However, please take note that dine-in at Terrazzo Restaurant requires a negative ATK test result.
Now, we hope you do stay with us as we are one the best Pattaya Sha Plus+ hotels here - the safety of our guests is our top priority. So, book your holiday package with us now! We are waiting to serve you.