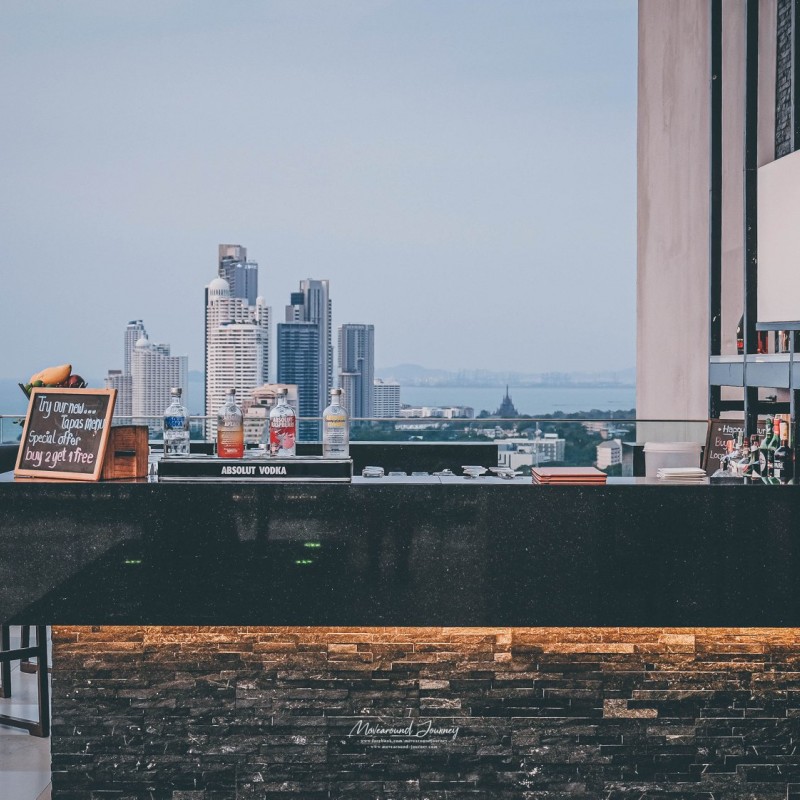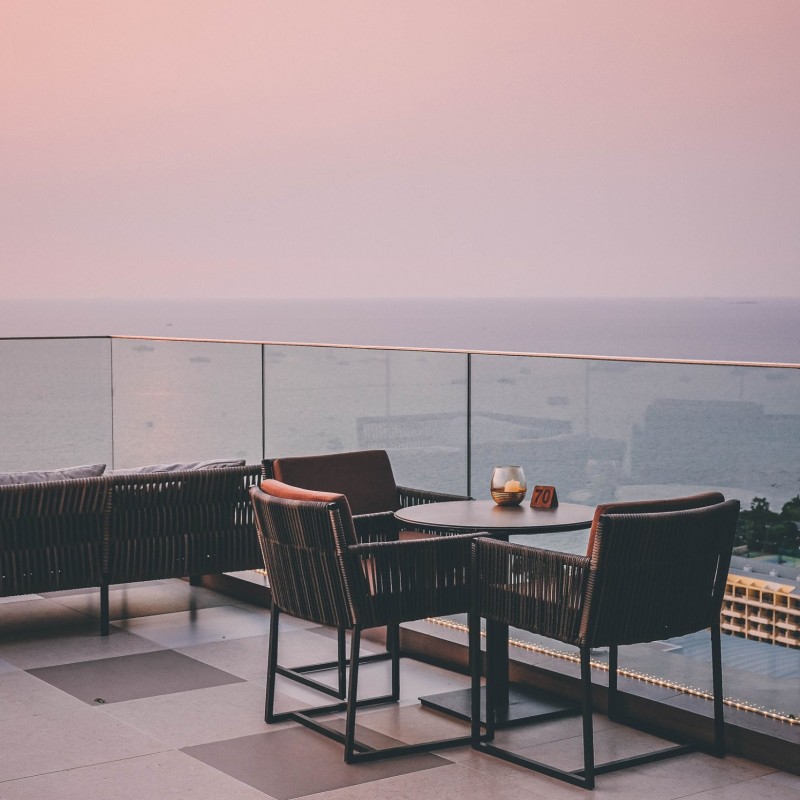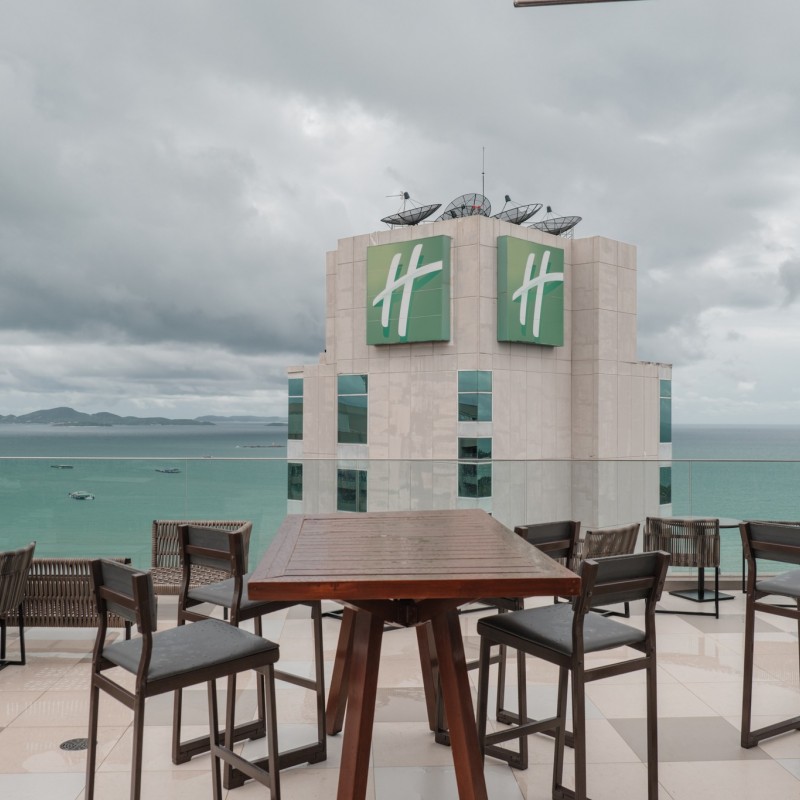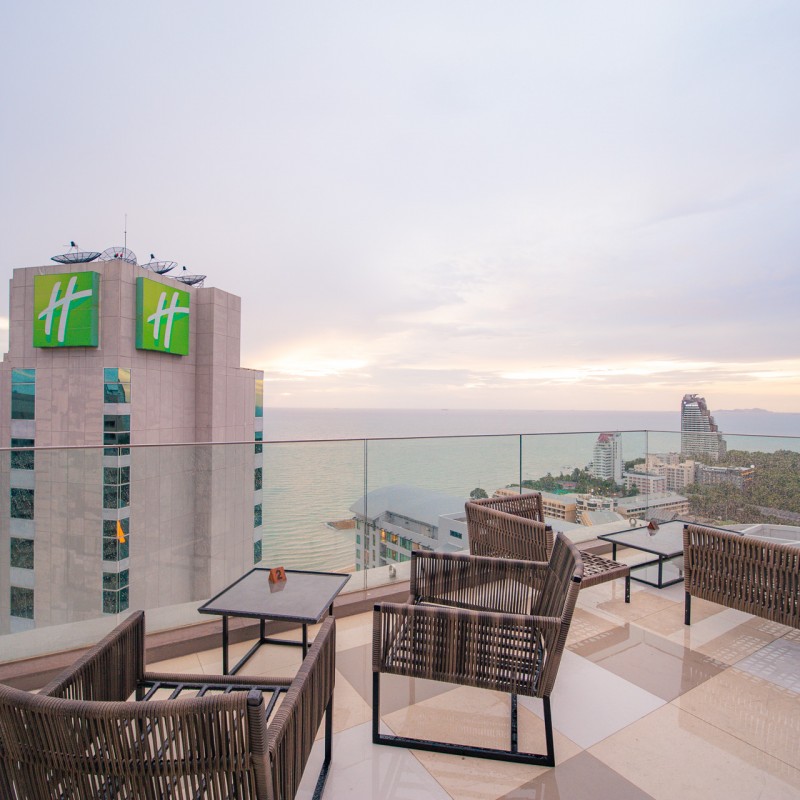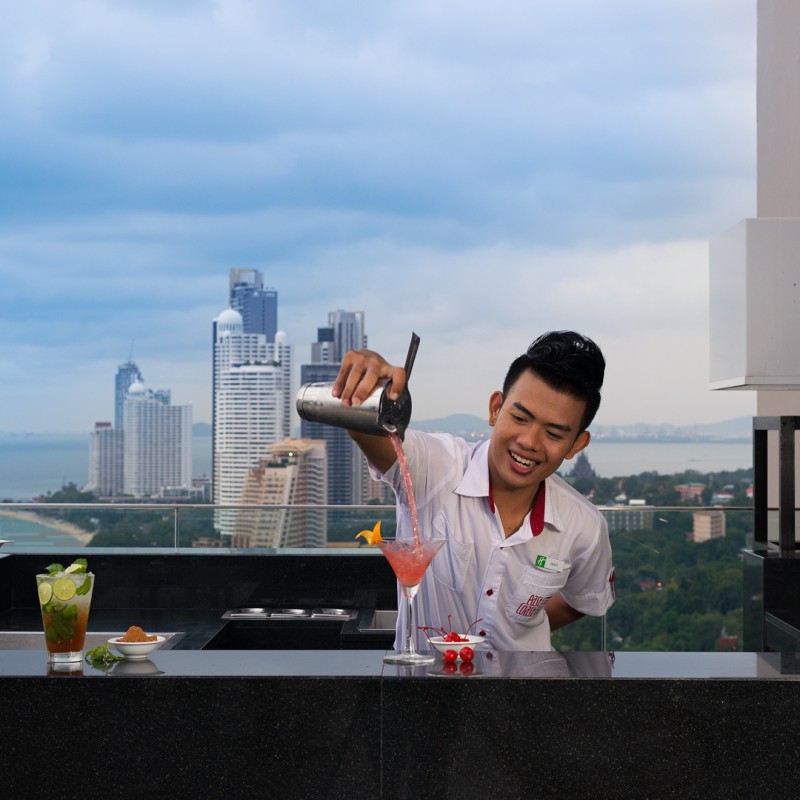 From the perfect vantage point 107 meters in the air on the 25th floor Rooftop Terrace at Holiday Inn Pattaya, watch the day's worries evaporate as you take in the 360-degree views of the sunset over Pattaya Bay with LIVE DJ.
Each Thursday, savor the chilled-out vibe of rooftop sundowners a with 50% discount on drinks and 30% discount on tapas from 5.30 pm – 8.30 pm.
Operation Hours: 5 pm - 11 pm daily
📌 Rooftop Terrace, 25th floor at Executive Tower, Holiday Inn Pattaya
Sip, Relax and Repeat at One of The Best Sky Bar Hotels in Pattaya
The bustling nightlife of Pattaya city is a prime attraction for tourists, and rooftop and sky bars are an excellent option for a relaxing and rejuvenating experience.
As one of the best sky bars in Pattaya, Holiday Inn will offer a unique atmosphere to unwind and soak in the vibrant energy of the city.
With the warm tropical climate of Pattaya, it is a desirable location to indulge in refreshing cocktails while admiring the stunning views from a rooftop or sky bar hotel.
This versatile atmosphere is suitable for many occasions, including romantic dates, intimate gatherings, and group celebrations.
A Rooftop Bar for You to Spend Quality Time with Your Loved Ones
Our rooftop bar in Pattaya is not just an ordinary bar – we offer a unique and unforgettable experience that is hard to match.
The stunning views of the city's skyline and ocean, combined with the stylish ambience, make our rooftop bar hotel an ideal choice for those seeking an exceptional night out.
From enjoying a delicious cocktail while watching the sunset to dancing the night away under the stars, the experiences offered here are truly unforgettable.
Other than the stunning views, good food and drinks are essential for a memorable night out, our sky bar hotel offers a variety of delicious foods and drinks for our guests.
Whether you want to try something new or stick to your favourites, our menu is designed to cater to everyone's tastes and preferences.
Enjoy Pattaya's Sky Bar and Socialize with a Sophisticated Crowd
This rooftop bar in Pattaya is also a social hub – where you can mingle with a sophisticated crowd and explore a unique opportunity for socializing and networking.
It is a popular spot for both locals and travellers to gather, making it a diverse and vibrant atmosphere. Whether you are looking to meet new people or connect with like-minded professionals, our sky bar hotel is the perfect place to do it.
With a relaxed and welcoming ambience, you will be able to strike up conversations with ease and make new connections that could last a lifetime.
An Exclusive Experience at The Rooftop Hotel Bar
This exclusive rooftop hotel bar offers a luxurious experience with top-notch facilities, personalized service and breathtaking skyline views.
The atmosphere is sophisticated and elegant, attracting a discerning crowd looking for a one-of-a-kind experience. It is the perfect place to unwind and enjoy the finer things in life.
With limited access available only to those with proper booking, our rooftop bar surely offers an exclusive experience. This ensures that you can enjoy a sophisticated and intimate atmosphere without overcrowding.
A Night to Remember, Reserve Your Spot at Holiday Inn Rooftop Bar Today!
So what are you waiting for? Experience an unforgettable night at the Holiday Inn Pattaya's Rooftop Bar, where you can indulge in delicious drinks and food while enjoying the stunning view of Pattaya's skyline.
By making a reservation in advance at the Holiday Inn Pattaya's Rooftop Bar, you will ensure a guaranteed spot with seating and avoid the hassle of long waits.
While you are here, don't forget to check out our other luxurious amenities and services, including spa treatments, room packages, and our fitness centre.
Reserve your spot today to ensure that you don't miss out on this exclusive opportunity to make lasting memories.