Holiday Inn Pattaya, a SHA Plus+ Hotel: Special Promotions for Your Next Holiday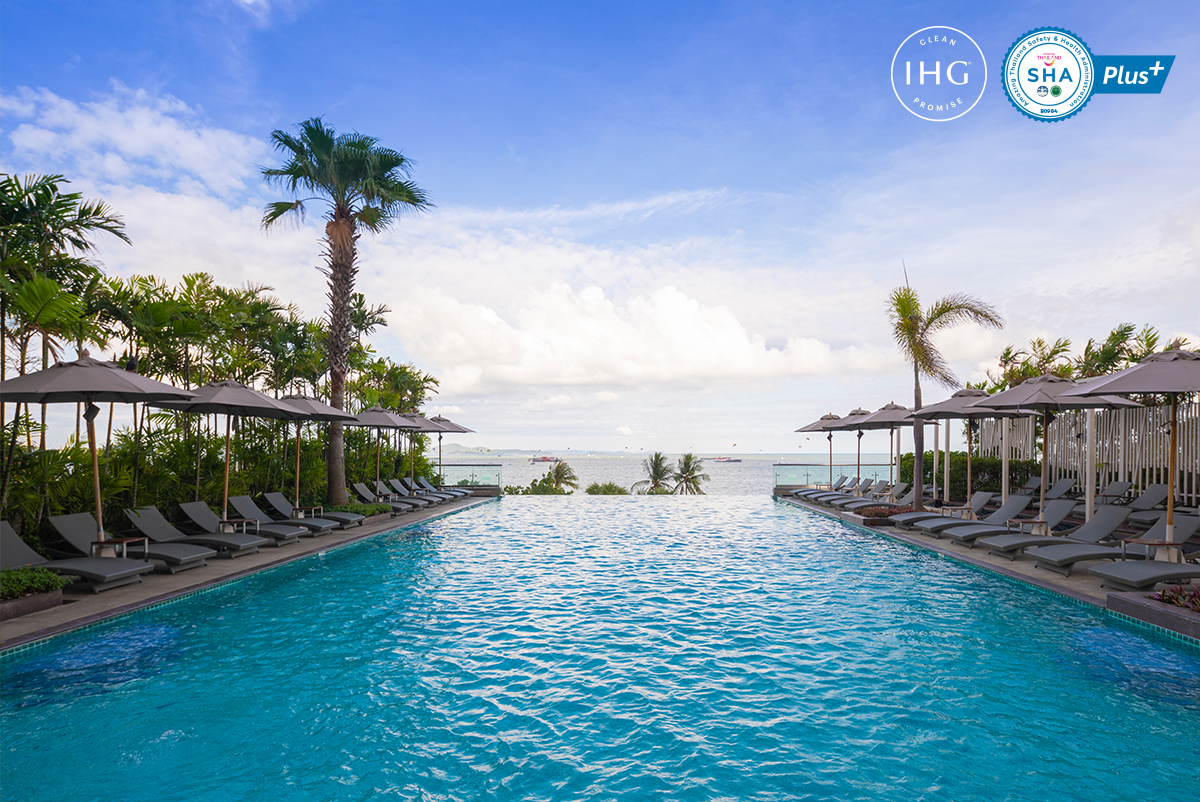 Finally, Thailand has now opened its borders to quarantine-free travel which means it's time to book your next holiday.
Visit the land of the smiles and head down to Pattaya, where the sun shines and our beaches offer the perfect place whether to relax, explore, or to party it up. If you are looking for a hotel in Pattaya, know that looking for a Pattaya Sha Plus+ hotel is important to ensure the safety of your travels.
What is a Pattaya Sha Plus+ Hotel?
A Sha Plus+ hotel in Pattaya are hotels where a minimum of 70% of the staff must be fully vaccinated, while unvaccinated hotel workers are not allowed to have close contact with guests.
Additionally, Sha Plus+ hotels in Pattaya train their employees to be wary of Covid-19 solutions in the case of emergencies. These hotels are also certified by the government.
With that, Holiday Inn Pattaya, which is a Pattaya Sha Plus+ hotel, is a great place to stay as we are centrally located right along the most popular beach in town, also known as Beach Road.
To top it off, we also have a package specifically in line with our Pattaya Sha Plus+ hotel status, which is our Test & Go package.
Holiday Inn Pattaya SHA Plus+ Hotel Package: Test & Go
As a SHA Plus+ hotel in Pattaya, we offer a package that is especially made for these unprecedented times with our Test & Go offer. With this package, you can enjoy stunning views from our Standard Ocean View Room which starts at THB 8,800 per person. It also includes the following:
● Daily breakfast
● One-way limousine from airport to hotel
● One-time RT-PCR test
● Antigen Test Kit (ATK)
● 20% discount on food and beverage
Do take note that there is an additional surcharge for an extra person at THB 2,000 net which includes breakfast, RT-PCR test and ATK.
Check Out Our Other Offers Too!
Additionally, we also have other ongoing promotions that are perfect for travelers that are looking to get the best bang for their buck.
● Breakfast Stay: Wake up and enjoy a delicious breakfast priced at THB 5 for two people, as well as a late check-out at 4pm. You can even get a complimentary upgrade to the next room category.
● Sea Sand Fun Package: Enjoy breakfast for two adults and two kids (under ages of 12), a complimentary sand toy set and dolphin doll, as well as 20% off food and spa! You can also test your cooking skills with a free family cooking class, complete with complimentary ice cream.
● Spoil Yourself Package: Pamper yourself with this ultimate package of breakfast for two persons, aromatherapy massage for 60 minutes, one set of afternoon high tea, and two glasses of sparkling wine!
● Family Fun Glamping: Have a fun-filled holiday with your little ones. This package offers a stay in our one King, one Bedroom Suite. It also comes with a kids' play tent with a soft topper, breakfast for two adults and kids' breakfast for two children, as well as a dolphin doll, welcome pack, kids' robes, slippers to take-home, one afternoon tea set, delicious ice cream, and milkshakes. One complimentary rollaway bed for children under 12 years old is also offered.
● The Ultimate Summer Package: Enjoy the sun and fresh air with this summer package that offers a stay at our Standard Ocean View which starts from THB 3,500. Complete with breakfast for two persons, we'll also give you one set of barbecue seafood (size S), while kids can stay and eat for free!
However, please take note that dine-in at Terrazzo Restaurant requires a negative ATK test result.
Now, we hope you do stay with us as we are one the best Pattaya Sha Plus+ hotels here - the safety of our guests is our top priority. So, book your holiday package with us now! We are waiting to serve you.