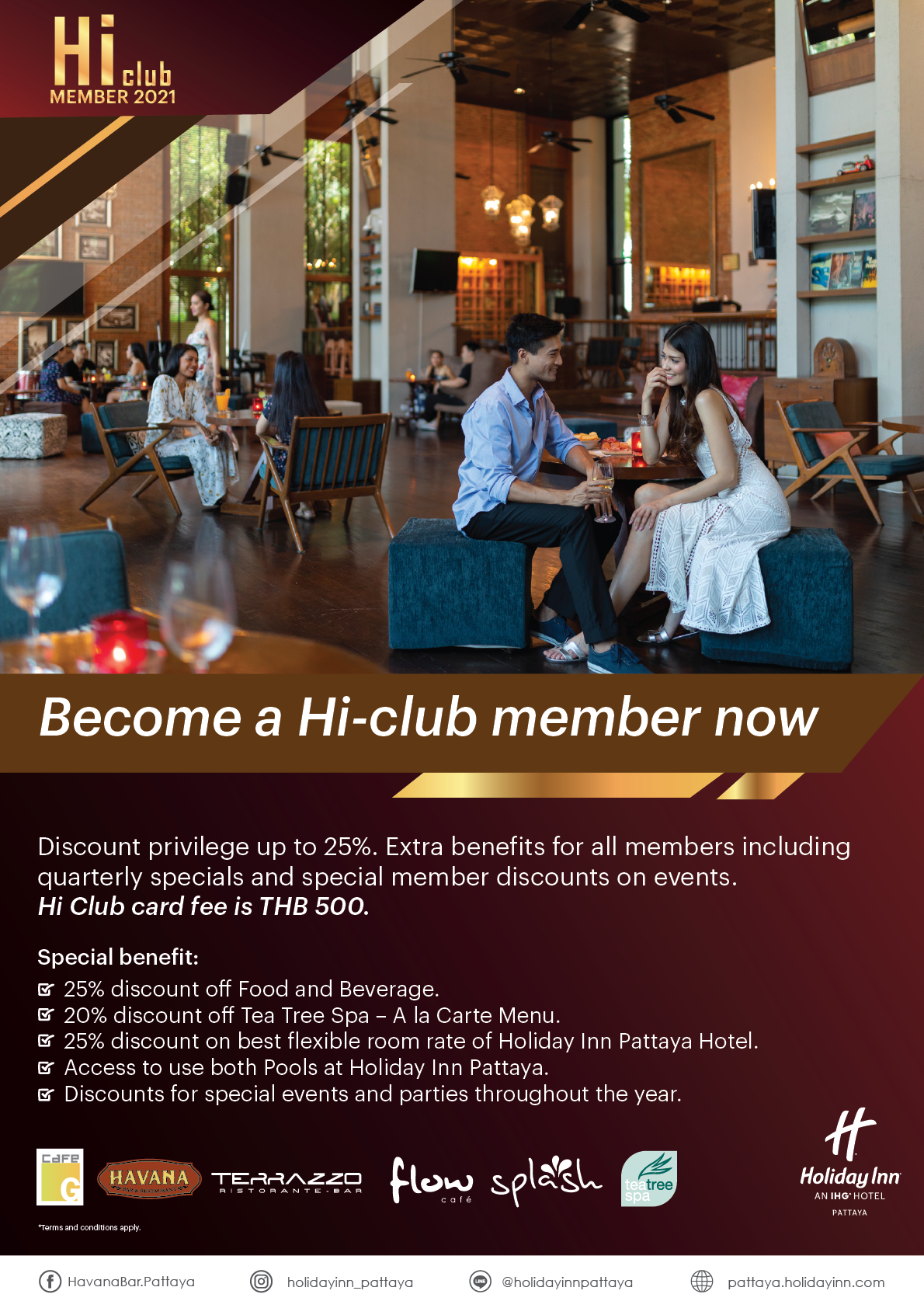 How does the programme work?
Hi Club is available to both guests and non guests of Holiday Inn Pattaya. It is a requirement that membership sign up is completed at the hotel to ensure you gain the most from the programme. Each loyalty membership is valued at THB 500.
Hi Club member enjoy up to 25% off on selected on food and beverage in participated outlets throughout the hotel.
Which restaurants are included?
Terrazo

Havana Bar

Flow Cafe
Cafe G

Splash
What else is included?
1 Food and Beverage voucher valued at 500THB that can be redeemed on your next visit after purchasing your membership card

25% discount off Food and Beverage in participating outlets in Holiday Inn up to 10 people – Venues
Include – Havana Bar, Terrazzo restaurant, Flow Café, Café G and Splash pool. (Not including any special promotions)

Access to use both pools at Holiday Inn Pattaya at your leisure during opening times 8 am – 8 pm,
7 days per week.

20% discount off Tea tree Spa – Al-a-Carte Menu

25% discount on the best flexible room rate of Holiday Inn Pattaya Hotel.
One time free room upgrade subject to room availability.
Special tactical offers throughout the year.
Special Breakfast offers price 299 THB NET.
Wine corkage charge free (Maximum of 2 bottles) when dining at Havana Bar, Terrazzo and Café G restaurant.
Discounts for special events and parties throughout the year.
Terms and Conditions
· HiClub Member cards are valid per calendar year; All cards will
expire December 31st 2021.
· All benefits expire as at 31st December each Calendar Year.
· Discount cannot be used in conjunction with any other existing promotions.
· Replacement Cards are available when lost or damaged – A charge may apply for this service.
· Only 1 HiClub Card can be used per bill – multiple bills per table are not allowed.
· The Hotel reserves the right to change the conditions of this card at any time without prior notice
· Card is not valid for use on the 24th, 25th and 31st December 2021.