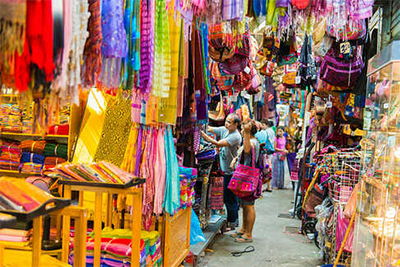 Thailand's eastern shores are a welcoming location to many travelers seeking a piece of paradise in Thailand. Many travelers from around the world come to the coast to experience its lovely shores, pleasant nightlife, and lively atmosphere. A lot of people choose to go to Pattaya, Thailand's world-renowned seaside city. While many come to Pattaya to spend their vacation partaking in exciting outdoor activities such as sightseeing, no vacation is complete without shopping. Along with warm weather and rich culture, Pattaya provides an excellent shopping experience for tourists and locals.
The following are the six best Pattaya shopping malls to go to on a lazy day off.
Royal Garden Plaza
The Royal Garden Plaza, located along Beach Road, is famous for the red airplane and bright yellow balloon along the entrance. Both landmarks are part of Ripley's Believe It or Not! museum. The museum is also part of the shopping center. The shopping experience provides several famous name-brand stores as well as electrical goods, souvenirs, and restaurants to choose from. The Royal Garden Plaza is known for promoting the concept of an "entertainment mall" with a combination of trendy shops, great restaurants, fun attractions, and family activities to enjoy all in one place.
Central Festival Pattaya Beach
This beautiful shopping center features more than three hundred shops and dominates the skyline in the city. Shoppers can find stores such as Nautica, H&M, and Calvin Klein. Restaurants include Italian, Middle Eastern, and a variety of western cuisine to choose from. Central Festival not only provides a great shopping experience but is a social gathering spot as well, featuring a well-equipped bowling alley and cinemas to enjoy. With its beautiful beachfront location, the Central Festival Mall is one of the most popular shopping destinations in Pattaya to date.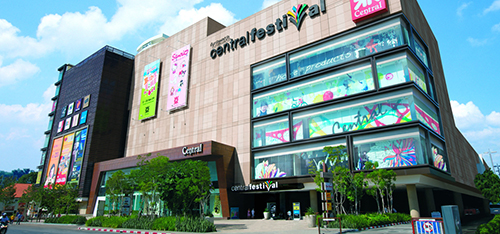 The mall is reachable from the Holiday Inn Pattaya; visitors can conveniently walk south from the hotel, on Beach Road to reach the shopping mall.
Mimosa
This quaint shopping area located along Sukhumvit Road features buildings designed like an old style European village. Along with a windmill and a musical water fountain, Mimosa offers over three-hundred or more shops. Customers can find clothing, jewelry, souvenirs, and local Thai crafts, serving as the perfect souvenir to take back home. There are also street performances and family attractions to enjoy while shopping. The shopping experience at Mimosa is enhanced by the interesting architecture and a small canal that add charm and personality to the area.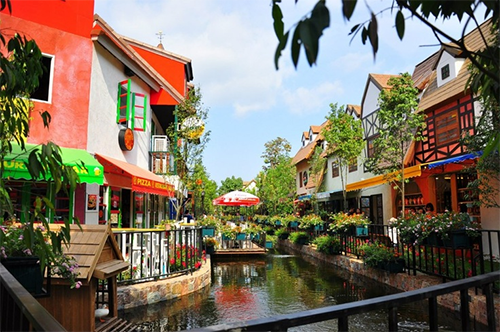 Pattaya Outlet Mall
Shoppers can find brands like Adidas, Nike, and Levi, among the other numerous international brands at the outlet mall. Additionally, outlet malls in Thailand are associated with massive sales and discounts that are absent in the city. Many brand name items are constantly on discount, peaking up to 70% off or more on a single or combined item. Also, the outlet mall features many notable restaurants to sit in and enjoy a pleasant meal at the outlet. The Pattaya Outlet Mall is located on Sukhumvit and Thep Prasit Road in South Pattaya. Shoppers can enjoy two distinct areas of the mall. These include the premium fashion mall as well as the outlet section for those with a limited budget.

Mike Shopping Mall
This shopping center has the combination of several big name stores such as Nike and Maybelline, yet there are still several vendors selling unbranded items. The mall also features several dining options and provides an air-conditioned environment. Everything from clothes and shoes to computers can be found at Mike Shopping Mall. This particular mall is known for having great discounts. What makes this mall unique is the rooftop pool that is available to customers for a small cost.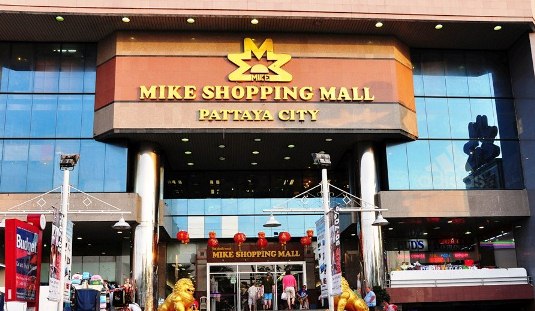 The eastern coast of Pattaya is recognized for its beachfront hotels and sprawling shopping malls and lively atmosphere. The six malls provide a variety of shopping experiences for visitors from all over the world. Pattaya has a bit of everything for everyone. Those looking for quick discounts can head off to massive outlets to get their hands on comfortably-priced goods. For visitors looking to acquire brand name goods or upscale products can head off to gargantuan malls, lined along the city's extended shoreline.