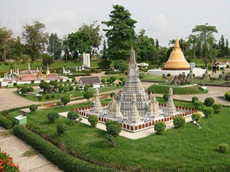 5 Top Things You Must Do in Pattaya
Whenever people think of Pattaya, they often associate the resort town with the image of ladyboys, risqué shows, drunk revelers and so on. Sadly, this does not begin to touch upon the many beautiful things this cosmopolitan seaside city has to offer. Since its popularity boomed in the 1980s, Pattaya has evolved beyond its legacy as a seedy beach town to become a world-class destination for a broad audience of couples, families and business travelers.
From sunrise to sunset, Pattaya's beaches are always brimming with life from water sport enthusiasts to diehard sun worshippers. After dark, the action moves to the streets, with electrified revelers exploring enjoying drinking and dancing until dawn.
Beyond its plethora of bars and beaches, there are a wealth of Pattaya restaurants, activities, and attractions to discover as well. As we don't have time to list them all, we'll start with the most popular five things you can do when in town including basking in the fantastic scenery, history, art, nature and of course, food!
Miniature World
Forget touring the world in 80 days, because at Mini Siam you can do it in 80 minutes! Located just 20 minutes outside Pattaya, this unique theme park is home to 100 replicas (1:25 scale) of famous landmarks from around the globe. Spread over a massive 46,400 sqm, the park is divided into two zones; Siam and Europe.
Head northwards to see Beijing's Altar of Heaven (Tian Tan) and St Petersburg's Church of the Resurrection of Jesus Christ, while in the South is Singapore's Merlion and Sydney's Opera House. For those wanting to venture further afield, head to Paris for the Eiffel Tower and Arc de Triomphe, as well as Leaning Tower of Pisa and Colosseum in Italy, pharaohs in Egypt, Tower Bridge in London and the Statue of Liberty in New York City.
For Thailand, step back in time to see the ancient kingdoms of Sukhothai, Lanna, Rattanakosin, and Ayutthaya. Bangkok highlights include the Grand Palace, Emerald Buddha, Wat Arun, Rama IX Bridge, and Hualamphong Train Station.
Tip: Try to visit in the last afternoon / early evening as it's less busy and the monuments are beautifully illuminated.
3D Art
Art in Paradise is a lively and unique take on the traditional art gallery concept. Here, the visitor becomes a living and breathing part of the artwork, thanks to a series of optical illusions and clever tricks. The ample 6,000 sqm space is split into ten zones and houses over one hundred pieces of interactive three-dimensional art, with such themes as animals, nature, past civilizations, classic artworks, modern art, and so on.
Through clever use of shading, borders and depth, skilled artists have painted directly on to walls and floors to create stunning images that trick the eye. Here you will witness eagles sweeping through the air, people falling off bridges, great white sharks attacking, kids stumbling out of windows, thieves breaking into tombs and couples flying on a magic carpet.
The scenes range from scary to amazing and laugh-out-loud funny. There is something for everyone and visitors of all ages will love spending a few hours touring this memorable gallery and snapping an Instagram-feed full of one-of-a-kind holiday snaps.
Tropical Garden
Nong Nooch Tropical Garden is set amid 2.4 sq.km of beautifully landscaped parkland just 20km south of Pattaya. The entire area is a massive theme park with cultural shows, restaurants, accommodation and numerous individually themed gardens.
A stroll through the botanical park is akin to taking a walk around the world from prehistoric Stonehenge to 17th century Versailles Palace.
Equally fascinating are the species-specific gardens, incorporating over 670 native and hybrid species including cacti, succulents, orchids, tropical palms, ferns, roses, bonsais and topiary plants.
Kids will love the Animal Sculpture Garden featuring life-size representations of camels, lamas, leopards, deer, kangaroos, dinosaurs and more. Active visitors can even take a turn around the lake in a pedal boat. For heat-sensitive patrons, there is a 1.1km-long elevated walkway passing through many key sights. Apart from the botanical park, Nong Nooch features daily shows at the Thai Cultural Hall, classical Thai dances, Muay Thai, ancient drum and elephant performances.
Tip: Due to its vast size of the park, you cannot hit all the sights on foot. It's a good idea to rent a bicycle or take the 30-minute sightseeing bus to explore at a leisurely pace.
Buddha Mountain
Just down the road from Nong Nooch and Sattahip Beach, you'll find iconic Khao Chi Chan, otherwise known as Buddha Mountain. Formally an active construction site, a laser and gold inlay were used to etch the image of a 109-meter-tall and 70-meter-wide cross-legged Buddha onto the side of this limestone mountain back in 1996. It is highly regarded as the biggest Buddhist engraving in the world.
The project was undertaken in celebration of the golden jubilee of His Majesty King Bhumibol Adulyadej, in honor of his 50th year on the throne. This site was chosen because the country's then Supreme Patriarch felt Khao Chi Chan was a particularly beautiful mountain and could be put to better use than mining.
Besides the monument, the grounds are home to a temple, various shops and stalls selling a range of souvenirs as well as snacks. The area immediately surrounding the park is filled with lush lawns, flowers, ponds and open-air pavilions, making it an ideal spot for a picnic.
Food, Glorious Food
Foodies will quickly discover that Pattaya is a haven for good eats. For example, a 15-minute drive is the fishing village of Naklua where a rather delightful restaurant called Mum Aroi is located. The establishment sits right beside the sea and serves up a fantastic variety of seafood. Few Pattaya restaurants can rival it for the quality of its food, views, service and prices. As you eat your dinner in this lively establishment, you can gaze out over the water and watch the old fishing boats bob up and down on the waves.
If you want to experience local Thai food from the water, head to the Four Regions Floating Market which offers a selection of regional Thailand delicacies from north to south and coast to coast. To experience the very best of the market, hire a small boat and weave your way amongst the floating sellers. Each section of the market sells products indicative of its regional characteristic. We can guarantee that they're all delicious and worth a try.
Partyers will be happy to know that Pattaya is home to an outstanding 24-hour Chinese restaurant, Leng Kee. This long-standing eatery occupies a prime location in thriving Chinatown. All-year-round it serves up a smorgasbord of beloved Chinese favorites, and at Chinese New Year, Golden Good Luck Noodles make an appearance too.
You can get mango sticky rice all over Thailand, and it is hugely popular with tourists and locals alike. But there are not many places selling just that one item. Mai Sai Thong is the exception. It's supposedly the best place in Pattaya to eat this beloved dessert. This little food stand next to the day market manages to have ripe mango available all year round to satisfy its ravenous customers.