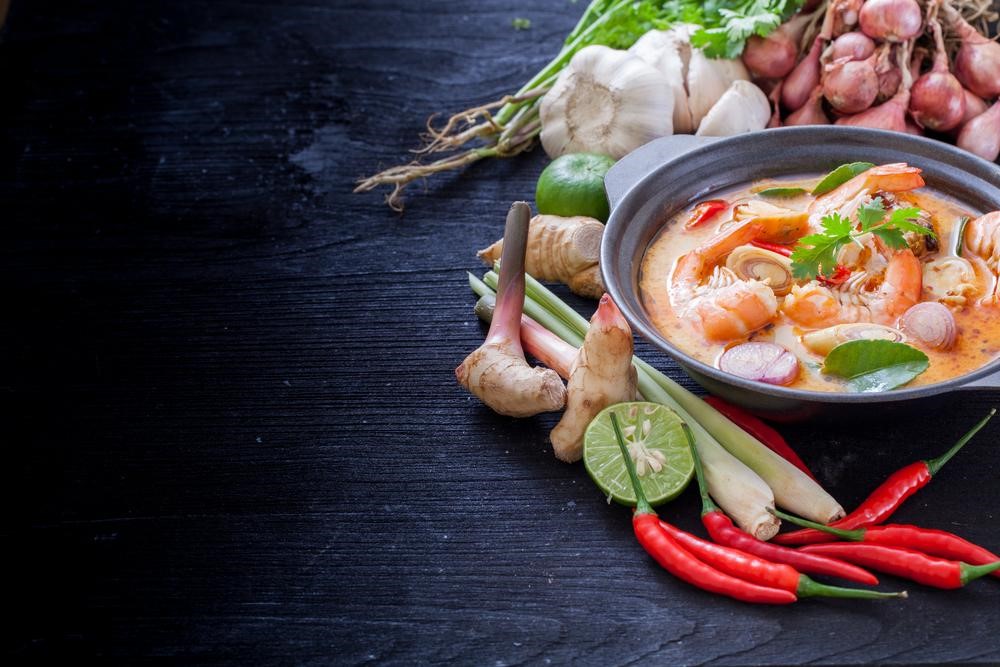 5 Top Thai Foods You Should Try
Thai food – its distinctive sweet, salty, sour, bitter and spicy fusions are sought after everywhere in Thai fine dining menus to street food creations worldwide. However, the most authentic tastes of Thai flavours you will ever have is, of course, in Thailand.
Pattaya itself is a melting pot of traditions where you will discover Thai delicacies from the Isan area in the northern area of the country, to the Songkhla province in the south.
Wandering among open-air food stalls and sampling all the different foods is one of the favourite pursuits of visitors to Thailand. So, if you are on a food hunt, here are five of the must-try dishes that have catapulted Thai cuisine into the top 10 best world's cuisines.
Pad Thai
The history of Pad Thai is just as interesting and colourful as the dish itself. It was created during a campaign to instil Thai nationalism in the people of Thailand. The government held a contest in the late 1930s to create a national signature dish, and Pad Thai was the winning entry.
The dish consists of stir-fried rice noodles, beansprouts, egg, tofu, peanuts, shrimp and chilli, with different variations by chefs throughout Thailand who have redefined the dish with their own versions.
It proved to be a huge hit particularly with foreign visitors to the country. While it may be hard to find in some of the smaller villages in the country, it is easy to locate a serving of this dish in Pattaya.
Som Tam
This spicy papaya salad, accompanied by sticky rice and grilled or fried chicken, is one of the most beloved lunches of the Thai people.
A much-loved dish all over Southeast Asia and known by different names in varying countries, it's believed to have originated from Laos as 'Tam Som', which translated to "pounding of sour ingredients".
With unripen shredded papaya is its main ingredient, it is then combined with lime, birds-eye chilli, palm sugar, tomatoes, dried shrimp, garlic and fish sauce in a pestle and mortar before being pounded to blend the flavours. Som Tam also includes regional ingredients, depending where you are, but finding a good Som Tam vendor who makes it the way they like is a quest for many Thais.
However, foreigners may have trouble getting beyond the spiciness of the dish, but you can ask the vendor to ease off on the chilli - just say "mai pet" and they will be happy to comply.
Larb Gai
Larb Gai is one of those dishes where you can taste all the contrasting flavours in one harmonious bite. A relatively simple dish to make, it is believed to have originated from Laos and later spread in popularity southwards through Thailand where it became the dish we know love today.
The dish consists of ground minced chicken, chilli, mint, ground sticky rice, fish sauce, spring onions or shallots and mixed with the juice of fresh-squeezed lime. It's light, refreshing and spicy, while its best served with lettuce leaves and steamed sticky rice.
Tom Yam Kung
Tom Yam Kung may be the most famous Thai cuisine dish throughout the world. It owes its success to the contrasting flavours of spice, sour and sweetness that combine to create Thailand's signature flavour.
It is made up of succulent shrimp, coconut milk, galangal, lemongrass, crushed chilli, chilli paste, kaffir lime leaves, palm sugar and fish sauce. A steaming bowl of Tom Yum Kung paired with steamed fragrant rice is one of the great pleasures of that Thai cuisine offers the world.
Nevertheless, if you have an allergy to shellfish, you can still enjoy this dish by asking for 'Tom Yam Kai', in which chunks of chicken are substituted for the shrimp. Don't worry it's just as delicious as Tom Yam Kung.
Khra Pao Moo
Khra Pao Moo is one of those nationally famous Thai dishes you can order at practically every restaurant in Thailand for a simple, cheap, filling and flavourful lunch. The dish consists of minced pork, shallots, chilli paste, holy basil, chillies, fish sauce, soy sauce and sugar.
These simple ingredients are stir-fried together to create a fragrant dish and may just be one of your favourite meals during your visit to Thailand.
With the creamy addition of a fried egg on top (Khra Pao Moo Khai Dao), you'll experience the simplicity, elegance and expert blending of flavours that signify Thai cuisine.
Try it all at Holiday Inn Pattaya
All these dishes are within reach when you stay at Holiday Inn Pattaya as our in-house menus provide both local and international cuisine. For more information, check out our bar and restaurants and book your stay today with our amazing special offers.