The popular and picturesque resort of Pattaya is a great place to visit at any time of the year and December is no exception. Pattya is around one hundred kilometers south of Bangkok and is a popular resort for both tourists and Thais and also has a large expat community. Although Christmas is not celebrated in Thailand, insomuch as it is not a public holiday, most hotels, bars and malls will have the festive decorations out for New Year well before Christmas. The weather is also cooler in December as the Thai winter draws in, making it an ideal time to go exploring.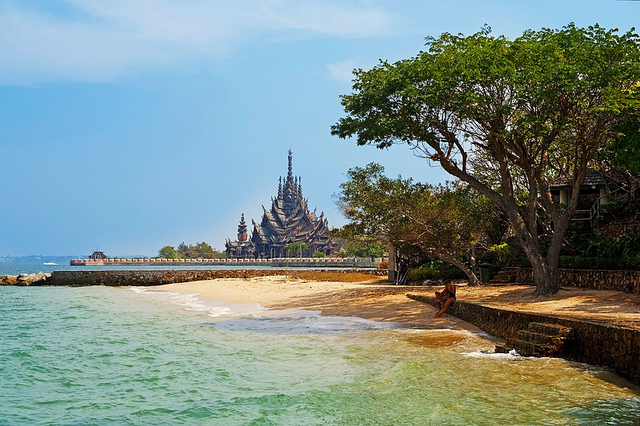 One of Pattaya's premier attractions is the Sanctuary of Truth. A magnificent temple made entirely of wood, using traditional methods. The construction of this one hundred and five-meter tall temple started in 1981 and is still an ongoing work, scheduled for completion in 2050. Visitors can watch the master craftsmen at work while they walk around in awe of this impressive and imposing structure. The temple is open daily from 8am – 6pm and is a must-see during your stay in Pattaya.
Khao Pattaya View Point on Pratumnak Hill is the best view point area, offering 360-degree views of Pattaya, and is free of charge to visit. The viewpoint is popular with the organized tours and can be very busy. Parking can also be challenging. However, it is well worth making the trip to the top for the stunning views and photo opportunities. Sunset is a very popular time to visit so visitors wanting to get that perfect shot of the sun going down over Pattaya, need to get there early. On the way up or down, why not stop at Wat Khao Phra Bat which has a monument to Kromluang Chomphonkhetusdomasak who was the founding father of the Thai Navy and also claims to have a Buddha relic.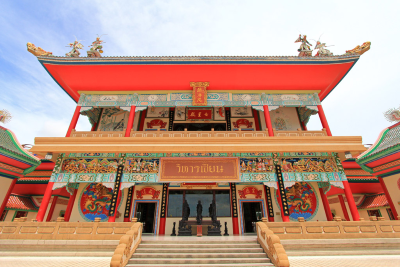 Pattaya has many amazing temples for visitors interested in exploring Thai history and culture. Wat Phra Yai, situated on Pratamnak Hill has the largest Buddha image in the Chonburi Province. The image is 18 meters high and is reached by walking up a staircase flanked by two golden snakes. Visitors planning to go the viewpoint at the top of Pratamnak Hill could make a quick stop to see this impressive image, costing visitors absolutely nothing. Nearby, travelers can head over to Viharn Sien a beautiful Chinese temple located fifteen kilometers away from Pratamnak Hill. This three-story building is home to very impressive artwork, including pieces from the Terracotta Army and many other priceless artifacts. Just a few kilometers further is Wat Yansangwararam or Wat Yan for short. Here, visitors can see some buildings of very unusual architectural styles set in one hundred and forty-five acres, which also has a large lake and a smaller one, which depending on the season will be full of lotus flowers.
Koh Larn is seven and a half kilometers from Pattaya in the Gulf of Thailand. Visitors can get there using one of the many speedboats found up and down Pattaya beach for upwards of 1,500 baht. Alternatively, they can take the Koh Larn ferry from The Bali Hai Pier for thirty baht each way. On the island visitors can try parasailing, ride on a banana boat, hire a jet ski, go sea fishing, or they can just escape from the crowds and enjoy the beautiful clean beaches.
Customers with young children at the beachfront Pattya hotel can take their children to Ripley's Believe It or Not World of Entertainment. It is located on the second floor of the Royal Garden Plaza on Beach Road. There are seven separate exhibitions, including the amazing Ripley's museum, filled with interesting and amazing exhibits, Louis Tussaud's waxworks, The Haunted Adventure and a mind-boggling infinity maze, which are amongst the most popular. When planning on purchasing tickets, visitors must decide which of seven they want to see, as all are charged separately. Another top attraction is Mini Siam, best described as a model village on a global scale. The park has two separate areas, one for Europe and another for Thailand, where visitors can see all the countries important temples and monuments in miniature form. The models are well crafted and if visited late in the afternoon, visitors can see them in daylight and illuminated once the sun goes down.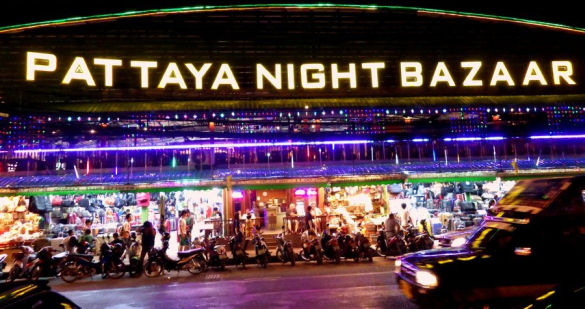 Pattaya Night Bazaar is located across from Central Festival Pattaya and unlike most night bazaars is actually an air conditioned building and not full of food stalls. Here visitors will find a diverse selection of souvenirs, clothing and handicrafts to haggle over. The bazaar is actually open most of the day and not restricted to evenings as its name suggests. Another notable shopping experience is the Thepparasit Road Night Market, which attracts large crowds Friday to Sunday and is also known as Pattaya Weekend Market. Here visitors will find many different types of street food as well as DVDs, electronic goods, clothing, shoes, even car parts and pets. Be aware that a lot of the goods are copies but you can haggle them down for a fraction of the price. Pattya's floating Market is also a great shopping experience and offers a wide range of handicrafts and traditional goods.
Pattaya has a number of beaches to choose from where visitors can hire jet skis, ride banana boats and parasail. Alternatively, they can relax on a sunbed until the evening comes. Pattaya nightlife is diverse and plenty. Most of the entertainment is situated around Beach Road and the adjoining streets. Here visitors will find restaurants, hotels and bars to suit all budgets. The Holiday Inn Pattaya is great value and in the heart of the entertainment zone on Beach Road and an ideal base for families. In Pattaya there is always something to do and something to see for every taste. It is a busy resort especially over the festive period visitors planning to go there at this time, need to ensure they book their accommodation before they arrive to avoid disappointment.