People who travel around the world are sometimes in search of one thing: Adventure. Whether the adventure takes place down a coiled alley, through highly congested night markets, or enjoying the outdoors, there are always activities people can do when on vacation. Thailand features a treasure trove of exciting outdoor activities the hardcore 'adventurist' can participate in, depending on the province. Those who would love nothing more than to scale tall cliffs can travel to Thailand's southern regions or for those itching for a canopy adventure can head north instead. For many people going to Thailand, they want a bit of both and the best place to get your adventure on as at Pattaya.
Pattaya is known globally as Thailand's most tourist-heavy (and expat paradise) city and offers a plethora of activities to do; snorkeling, canopy adventures, kayaking, go-karting, and more. For travelers looking for nothing more than an adrenaline-pumping adventure, look no further than Thailand's Eastern seaboard.
ATV Pattaya Jungle Adventures
For those who love nothing more than to get down and dirty in Pattaya, look no further than going off-roading with ATV Pattaya Jungle Adventures. Featuring a Polaris 330 cc Trailblazer imported from the United States, travelers can speed through the bumps and grooves of the jungle and absorb the local scenery, hidden behind thick foliage. A professional guide will guide those riding the ATVs on a pre-determined path. For those new at the art of ATVing, no problem. All the ATV vehicles are automatic and are safe, plus, easy to drive. Beginners could always take advantage of the practice track before heading out into the jungle. Additional facilities, guests can jump into their swimming pool or order a meal at the on-site bar/restaurant.

Before heading off to the jungle, it's expected for visitors to wear appropriate clothing such as trainers (sneakers), sunglasses, and a set of new clothes.
Enduro Madness Dirt Bike Tours – Pattaya
Another exciting tour to partake in is the Enduro Madness Dirt Bike Tours. The tours will take you through various dirt roads, sandy trails, snaking jungle trail, and more. Each journey provided by the professions will take you to Silver Lake, natural streams, and majestic waterfalls. What's great about this tour is everything was seen or experience on the trip would be natural. You have to experience it to believe it.

The facility is home to a fleet of 14 high-quality Enduro motorbikes and 2 Motocross bikes. Each of the bikes is highly maintained by the facility and are replaced every three years to ensure long-lasting performance. Additionally, the facility provides training courses for new beginners, couples, and even kids to experience the 'madness'. The specialists will pair you up with a bike that matches your confidence and size and help you have fun trailblazing through Pattaya.
Pattaya Bungy Jumping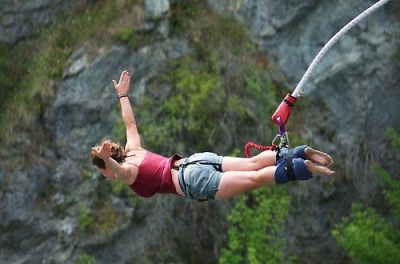 It's not a complete adventure if you haven't screamed at the top of your lungs with bungee jumping. The Pattaya Bungy Jump is Pattaya's only licensed bungy jumping facility, approved by the Tourism Authority of Thailand. So, what to expect here? Visitors can expect a death-defying, 60-meter high platform over a lake or become a human slingshot instead.
The facility is keen on ensuring the safety of its participants and each piece of gear or equipment are double-checked to ensure the person is securely strapped in. Each service offered at the facility provides insurance, hotel transportation, and for larger packages, a 'Certificate of Courage'. If you want to fly in the sky or face your fears, bungy jumping is the best thing you can do during your trip.
Thai Sky Adventures – Skydiving Pattaya
For a life memorable complete skydive experience, Thai Sky Adventures offers some methods with the easiest and safest way to skydive. Giving you the most experienced instructors using a dual harness/single container parachute designed for two. A short training course is provided to help you familiarize with the equipment, exit, body position, canopy, and landing techniques. You will take a 20- minute's ride with your instructor that comprises of 13,000 feet with a free fall of 120 mph/kph once your name comes up on the manifest.
Pattaya Kart Speedway
Welcome to Pattaya Kart Speedway, with over 20 years of experience in providing a very first Go-kart racing circuit in Pattaya. Pattaya Kart Speedway gives you the best fast and fun sports of choice. Go-carting is very popular because it gives you the same feeling of Formula one at a less costly and more safety. The most fun is got from keeping the Go-kart on the track and not letting it slide off the road. You are required to balance both the movement of the Kart plus your body. The balancing is done by steering in the direction of the turn, moving your body weight in line with the throttle as you make a complete turn.