Thailand is renowned for its beautiful coastline and beaches, but one of the main reason's people go to Thailand is because of their many islands, most of which are only a short trip from the mainland. Pattaya has a handful of small islands around its coastline, and all of the islands are only a short trip away by speedboat charter.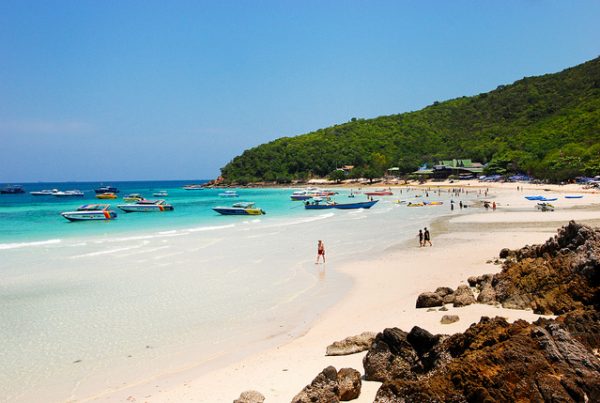 List of Islands
Pattaya's Islands offer beautiful beaches, clear water, beautiful landscapes, snorkeling, and swimming. However, be sure to pack a lunch and water because, depending on which island you choose, there may or may not be any food or other services. The main islands around Pattaya are Larn Island, commonly known to tourists as Coral Island, Koh Sak Island, and a small group of islands referred to as the Bamboo Islands.
Larn Island (Coral Island)
Larn Island is one of the most visited islands near Pattaya. The island is located to the west of Pattaya town and offers visitors a bounty of beautiful sandy beaches, clear water, incredible scenic views, and stunning sunsets. The distance from Pattaya is not far, being only 7.5 kilometers, and there are two ways to reach the island: by ferry, the trip to Coral Island takes 45 minutes, or a speedboat takes 15 minutes. Larn Island itself is 4 kilometers by 2 kilometers or 3500 rai. 90% of the island consists of trees and mountains. The island is inhabited, and houses approximately 1000 residence in the main village and has a school and medical center.
What to do on Larn Island
There is no shortage of activities to participate in on Larn Island, and, therefore, there is something for everybody. A main attraction on the island is the glass bottom boat service that is offered to view the amazing underwater seascape and marine life, with the bonus of not getting wet. The corals, for which the island is named for, are protected and therefore, large boats are unable to anchor near the beach. Other activities include parasailing, jet skiing, hiking, shooting, banana boat, fishing, snorkeling, and scuba diving.
Beaches on Larn Island
Ta Waen Beach, which is located on the north end of the island, is one of the most popular beaches to visit on the island, boasting 750 meters of white sand. Food stalls and shops line the beach, so tourists do not have to worry about packing a lunch with them when visiting this beach.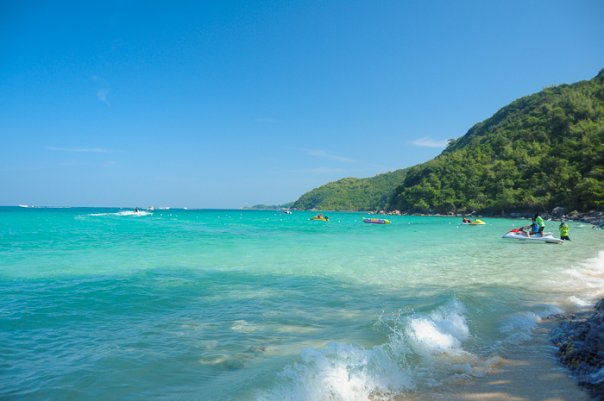 Traveling down to the southwest of the island is Thian Beach, which stretches 700 meters long. This beach is less populated and boasts a very clean and quiet atmosphere for people who want to be away from the hustle and bustle of the more popular beaches. However, there are fewer restaurants near this beach, and it may be wise to pack a lunch just in case.
Koh Krok Island
Located 8km from the shore of Pattaya, Koh Krok Island is a quaint island consisting mostly of rocks. The island does have one sand beach on the eastern side of the island that measures 100 meters long. This island does not have any accommodation or restaurants, so if visiting make sure to come prepared with food, water, and any other necessities. Koh Krok is not an inhabited island, and makes an ideal spot for snorkeling and offers an escape from the noise and hustle and bustle of the city. To reach the island, directly hire a speedboat charter from one of the mainland beaches.
Koh Sak Island
Shaped like a horseshoe, and located 10km west of Pattaya, Koh Sak Island is only a half kilometer away from Larn Island. The island contains two connecting beaches: the first beach is suitable for swimming, with a 250-meter beach located on the north end of the island, and the second beach is much smaller and situated on the south end of the island. Only 80 meters long, this beach makes up for its size by facing a remarkable coral reef that is ideal for snorkeling. To reach the island, hire a speedboat charter from any of the mainland beaches.
Bamboo Islands (Koh Phai)
The Bamboo Islands are a group of islands under the supervision of the Thai Royal Navy, consisting of Koh Klung Badan, Koh Luam Koh Manwichai, and Koh Rin. This group of islands is located 23 km from Pattaya, and it takes almost two hours by boat to reach the islands. The islands are uninhabited, and no facilities are available when there, so all food, water, and any other necessities must be brought in by the visitor. The islands are pristine and are an excellent place for swimming, snorkeling, sunbathing, or just enjoying the views. Like with all the other islands, a speedboat can be chartered from any of the mainland beaches. If traveling to this set of islands, be sure to set aside a whole day, because the travel time alone takes a total of four hours.
Pattaya offers a central location for enjoying island hopping, and with many beautiful islands to choose from, Pattaya is a popular choice for basing a vacation. When staying in Pattaya, book a night at the Holiday Inn Pattaya, a family-friendly hotel conveniently located near the waterfront and offers dashing sea views from the hotel's side-facing Superior Ocean View Rooms and professional accommodation services for any guest on a budget.