Thailand may not be the first place that comes to your mind when you are contemplating a destination for your dream vacation. In reality, this beautiful and fascinating country has so much to offer holidaymakers. In the eastern coast of the kingdom lies a fascinating area and town called Pattaya. The variety of attractions you will find here includes entertaining cabaret shows, botanical gardens, floating markets, museums with thrilling rides, amazing religious treasures, and incomparable rainforests with zip rides. Pattaya is one incredible mixture of dance, culture, nature, science, and religion all rolled up in one neat dream vacation package.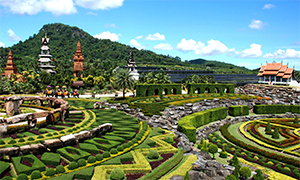 Nong Nooch Tropical Botanical Garden
It should not come as much of a surprise that a country justifiably renowned for world-class nature boasts an incredible botanical garden in the Pattaya area. Nong Nooch Tropical Botanical Garden practically explodes with incredible landscaped gardens, stunning flora, and other plant exhibits that are so impressive as to be among Thailand and the entire region's best. There are cacti, tropical palms, and bonsais gardens; French styled gardens; topiary displays, and even a Stonehenge recreation. Few other places in the world boast more than 670 hybrid and native orchid species; Thai boxing, dancing, and drumming performances; and even an elephant talent show.
Pattaya Floating Market
Pattaya also offers an amazing floating extravaganza of real Thai life called the Four Regions Floating Market. With literally four different sections representing the northeast, north, center, and south main regions of Thailand, there is something for every vacationer here. You will find foods, fruits, handcrafted goods, art, souvenirs, clothes, and even postcards, along with both demonstrations and cultural performances offered. Among the nearly 115 vendors are some that sell from actual canoes and boats, hence the term "floating market." Other merchants are housed in a village built on stilts, connected by bridges, and featuring covered walkways.
Ripley's Believe It Or Not Museum, Wax Museum, and Sky Rider
Famed throughout the world, Ripley's Believe it or Not! the museum provides visitors with more than 300 almost unbelievable displays that are all based on actual facts and true stories. Pattaya's Ripley's also includes a wax museum, some exciting rides, an interesting 12 Dimensional moving theater, and the larger than life Sky Rider balloon that provides visitors with incomparable views of the area and the city.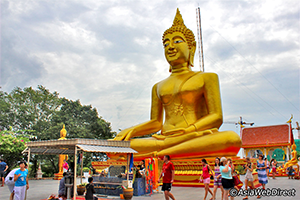 Wat Phra Khao Yai ("Big Buddha Hill")
The impressive Big Buddha earned its nickname honestly at over fifty-five feet tall and lying at over 300 feet above sea level. This makes it the largest Buddha statue in the entire area. Along with the mighty statue, you can explore the temple complex with its numerous bells, lesser statues, wafting incense, and glorious panoramas of the Pattaya town and Jomtien Beaches. More than an attraction for the tourists, Wat Phra Khao Yai remains a working temple where the locals often come to pray.
Cabaret Shows
You may have seen cabaret shows before in other parts of the world, but you have probably not seen too many of the Pattaya variety. This town's claim to fame is that every single showgirl is actually a show guy! These so-called "ladyboy shows" are wildly popular, enough so that the town has four unique venues and literally hundreds of performers. Shows like the Tiffany Cabaret Show, the Alcazar Cabaret Show, and the Thai Alangkarn Show are held in grand looking buildings, and they showcase glamor, glitzy costumes, enormous song and dance numbers, and impressive choreography from both Asian and native Thai cultures.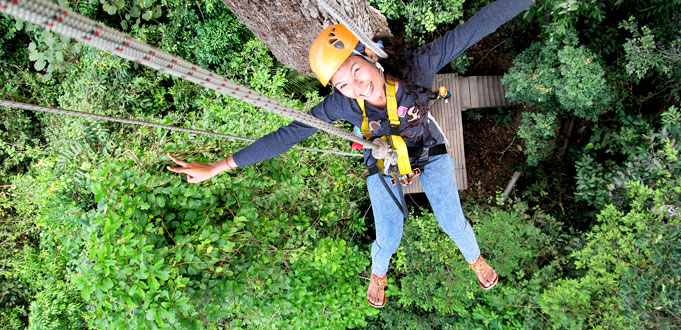 Chompoo Wildlife Sanctuary/Flight of the Gibbon Chonburi
A final not to be missed attraction near Pattaya is the Chompoo Wildlife Sanctuary, showcasing the Thai jungle. The park features a nearly two-mile zip line course called the Flight of the Gibbon Chonburi. You race from one tree to the next at jungle canopy level. Just one of the lines runs nearly a thousand feet, and there are twenty-four platforms nestled among the treetops. Besides this, the Gibbon Chonburi includes two rappel descents and two sky bridges hung between trees to add to the excitement. All along the route, tour guides show off the stunning and varied plants and animals of their native Thailand.
Holiday Inn Pattaya
Pattaya offers a wide range of places to stay while on this dream vacation. One of the nicer hotels in the area is the Holiday Inn Pattaya, with its four restaurants, beachfront location, and the full-service spa. Visitors can enjoy a terrace breakfast on the hotel rooftop, the health club, Kids Club, and lobby WIFI. Holiday Inn lies near some of the best attractions too, with Tiffany's Cabaret Show only .3 miles away and the famed Pattaya Beach at only .4 miles distance from the hotel.