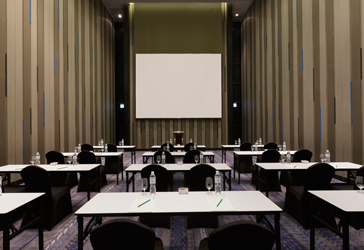 Holiday Inn Pattaya provides customized meeting facilities ranging from small, medium to large meeting rooms to accommodate your business and conference needs. The hotel offers 7 types of high-tech meeting rooms available and each room varies typically in size. Distinctively speaking, the rooms can be modified to suit the guest's needs, whether as a small meeting room, seminar to a large-scale event such as conferences, for example. The rooms are fully equipped with the latest technological equipment and wireless internet to ensure each meeting is executed flawlessly.
Small-scale rooms accommodate up to 12 – 30 persons. These rooms are: Meeting Room 4, Meeting Room 5, Meeting Room 6, and Meeting Room 7 are located in the Executive Tower.
The Bay Tower provides another handful of rooms: Meeting Room 1, Meeting Room 2, Meeting Room 3 and Meeting Room 2+3.
Middle-scale rooms accommodate up to 111 – 250 persons. There are four rooms at the hotel guests can choose from Meeting Room 4+5, Meeting Room 4+5+6 in the Executive Tower and Ballroom 1 and Ballroom 2 in the Bay Tower.
Auditorium
The Auditorium is Pattaya's first full-fledged auditorium facility offering 115-square meters of space. The auditorium makes it a suitable environment for meetings, TED-style informational sessions, PowerPoint presentations, and lectures. At the head of the colorful auditorium is a screen that can be used for presentations and video learning. The room capacity is able to hold 75 attendees and features the most advanced audio-visual equipment.
Restaurants
After a day of meetings, you and your employees or trainees can continue bonding over a great meal at one of the many restaurants here.
The hotel has plenty of options for cocktail hour—inside and out. The beachside Terrazzo has a large selection of Italian favorites including antipasti, salads, pasta, and wood-fired pizzas—cooked in the outdoor wood-burning pizza oven. The restaurant also boasts an open kitchen, where you can watch your pizzas being tossed.
For chilly nights, cozy up in the Havana Bar, a Cuban-style cigar bar, stocked with Cuban stogies. Your employees can sip a few mojitos or Caribbean cocktails and enjoy some Cuban food along with favorites that everyone will enjoy.
When it's time to rise and shine, your employees can make breakfast the most important meal of the day in the East Coast Kitchen, stocked with plenty of morning favorites. They can line up at the breakfast bar and fill their plates with eggs and cereal before settling down in one of the overstuffed booths while enjoying views of the ocean.
After a morning of training or meetings, employees can take a break in the Café G or FLOW. Café G is open all day and offers buffet-style meals, complete with cooking stations for special orders. Flow offers light fare for a quick power break or a grab-and-go snack.