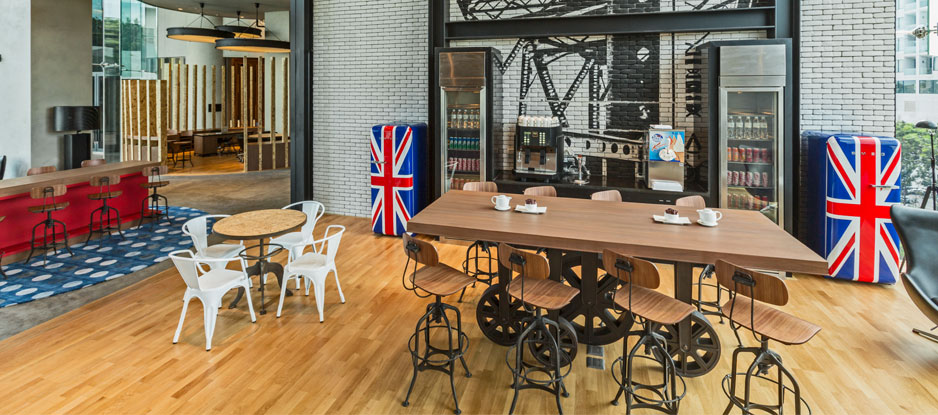 Do you have a special event coming up? Need a place to host it? Consider the Holiday Inn Pattaya as your venue. We have a full list of meeting areas to fit almost any need, from corporate to festive to casual. Our most unique and popular meeting spaces are the rooms and auditorium of The Workshop.
The Workshop is a collaborative environment, with all the tools needed for work combined with the feel of an artist's studio. You'll love the natural light that washes over these rooms.
The Workshop Meeting Rooms
The Workshop Includes four meeting rooms of varying sizes:
Meeting Room 4 – 90sqm.
Meeting Room 5 – 95 sqm.
Meeting Room 6 – 91 sqm.
Meeting Room 7 – 91 sqm.
These rooms can be set-up in a variety of ways, depending on your function and needs. Those options include:
Cocktail style: smaller tables spread out, holding about 50 people
Banquet style: larger tables and chairs for sit-down eating, with a count of 50
Cabaret style: tables with chairs facing forward only, can fit up to 65 people
U-Shape style: tables make a horseshoe, can hold up to 24
Classroom style: tables and chairs facing forward in rows, 45 seats available
Theatre style: Rows of chairs facing forward, with a maximum of 60 people
Boardroom style: large table with seats around it for 30 people
Hollow style: similar to the u-shape, this setup creates a full rectangle, seating 30
Please note, not every configuration is available in each room. These rooms can be used together, with one being a meeting room while using another space for meals or a cocktail hour.
The Workshop Auditorium
The Holiday Inn Pattaya is home to the first auditorium space within a hotel in the city. Expect a spacious venue, measuring 115-sqm. The auditorium is ideal for many types of events, including meetings, lectures, concerts or other entertainment. With theatre-style seating, you will have space for 75 attendees. With raised levels for seating, a great view is guaranteed.
Helping You Plan Events and Meetings
Our staff of meeting and event planners will work with you to select the correct room and layout depending on what type of group you have. We'll advise you on which layout is an ideal choice. We can cater your event with a full sit down eating meal, buffet, cocktails, and more.
At the Holiday Inn Pattaya, you will have plenty of choices for cuisine. From seafood to more traditional Thai fare, the catering options are plenty. During this phase, we'll provide you with our menu of options and share our expertise on what pairs well together. In addition to food, there is so much that goes into planning your event. Should you need audio-visual equipment, we will arrange this for you. Any small things we can do to make your event a success, we certainly will. Let us worry about preparing your space so you can focus on everything else.
Get Rewarded for Using IHG for Meetings
IHG offers Business Rewards. When you book meetings with us, you get rewarded. This offers you points not only for the hotel rooms you book but also the meetings and events you plan. Speak with your Holiday Inn Pattaya meeting planner to enquire about these bonuses. Earn points that you can use for future trips, events, or meetings.
Contact Holiday Inn Pattaya Today to Plan Your Event
Ready to start planning your meeting? Our helpful staff are here to help. Get in touch today to discuss options, pricing and availability. Just complete our meeting inquiry form