Pattaya is known for its amazing beaches, nightlife, and its status as a great resort town. With many family activities available, there are no easy decisions about what attraction should be a priority. However, one specific attraction should not be missed while staying in Pattaya. Newly opened in October of 2014, the Cartoon Network Amazone Waterpark is the ultimate family attraction, and is the world's first Cartoon Network-themed waterpark. This unique and exciting waterpark is filled with multiple unmissable attractions for all ages and will make for a memorable vacation.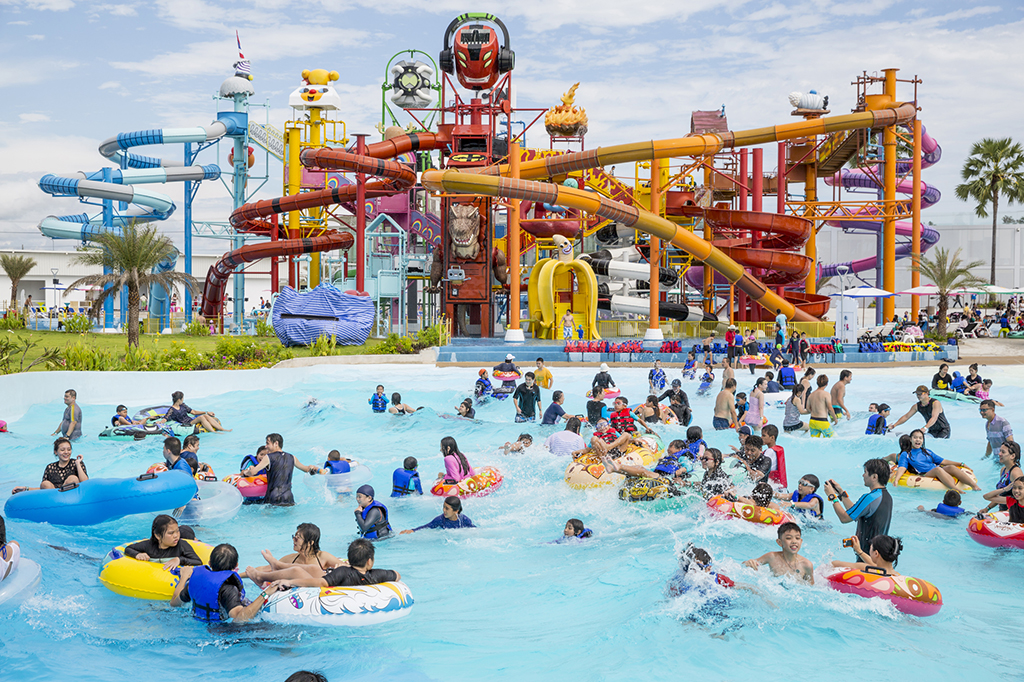 Knowing the Terminology
This one of a kind waterpark is located only 20 minutes from the center of downtown Pattaya, and easily accessible from popular family oriented hotels. The Cartoon Network Amazone Waterpark uses specific classifications for each activity, ranging from Kids to Thrill and specifies a minimum height and/or weight requirement for safety reasons. Please be sure to read and understand all ride restrictions beforehand, and then be prepared to have the ultimate day of fun and excitement.
Alien Attack
This Ben10 themed ride is rated Thrill and is a must for anyone who fits the height and weight requirements. As specified on the waterpark website, the minimum height of 120cm (approx. 4') and a maximum weight of 120kg (approx. 265lbs) per person. For two people going together on this amazing ride, there is a maximum of 200kg (approx. 441lbs) weight combined. This fast, thrilling 110-meter long waterslide offers the rider an array of wild twists, turns, and the chance to defy gravity as water jets blast the rider uphill, only to take a rapid drop, courtesy of Swampfire and Cannonbolt.
Banana Spin
Rated Fun, this Jonny Bravo themed ride hosts the same height and weight restrictions as Alien Attack but is perfect for those people who do not enjoy dropping from heights but still want a thrill. Perfect to ride with a friend, the Banana Spin Bowl uses a centrifugal force to spin the raft high on the wall for several turns before being sucked into the corkscrew, going through a water curtain, and plunging into the pool below.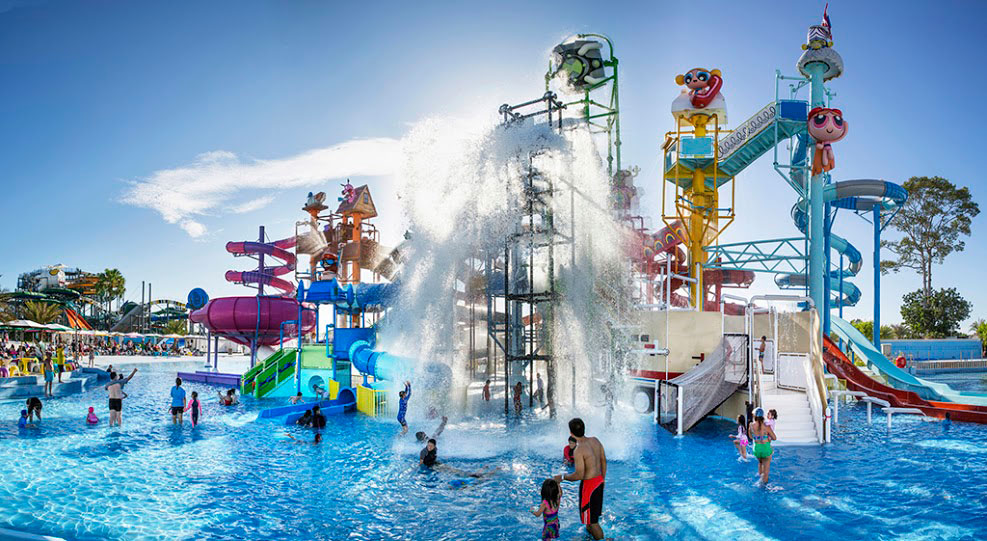 Cartoonival
Packed full of slides, fountains, and tubes, Cartoonival is ripe for all-day exploration. Rated Kid, this amazing attraction offers 150 water features for children to discover and enjoy and is an absolute must for any child over the age of 3. Cartoonival is strictly kids only and offers a Songkran-like splashing place filled with favorite Cartoon Network characters such as Ben10, Power Puff Girls, and many more. Parents, please keep in mind that any child under the age of 6 must be supervised at all times.
Goop Loop
Boasting going from zero to 2.5Gs in two seconds, the Goop Loop is not for the faint of heart. This is a ride for the ultimate thrill seeker. Aptly rated Thrill, this amazing waterslide is a one person ride that begins in an enclosed capsule. Once the rider is settled, a trap door releases to propel them in a 12-meter free fall that propels them in a 360-degree loop. An amazing ride, and an even bigger thrill, this is one attraction that should not be missed.
Intergalactic Racers
Another thrilling attraction is the ultimate slip'n slide, Intergalactic Racers. This particular attraction is best enjoyed as a family and/or friends friendly competition. Riders race against each other on a multi-lane super slide, lying headfirst on the provided mats. Riders are propelled through many twists, turns, and bumps, making for an exciting race to the finish. The only caution for this ride is a minimum weight requirement of 35kg (approx. 77lbs) and height of 120cm (approx. 4'). Just remember, the first person to reach Bloxx is the winner!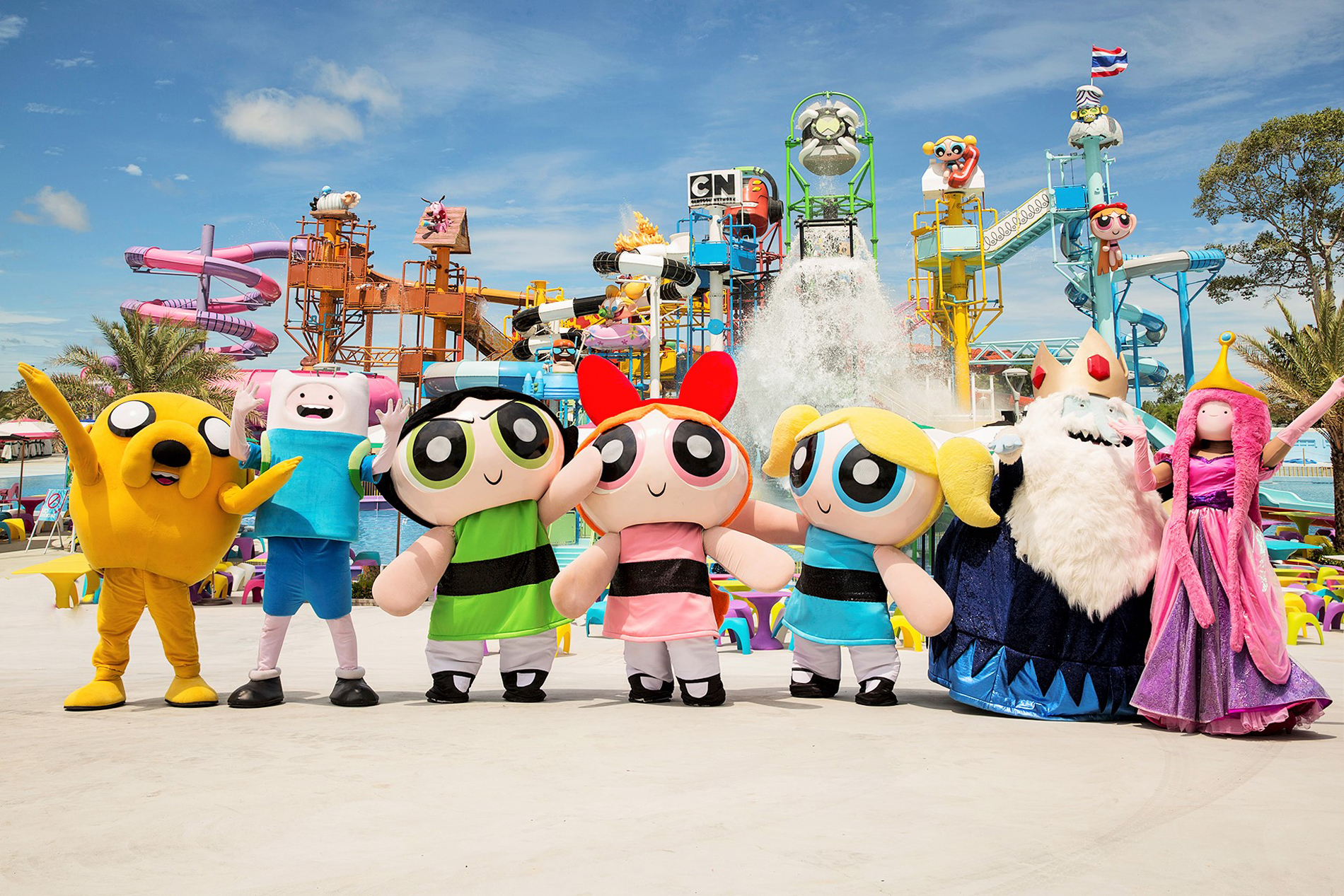 Mega Wave
Fun for all ages, and the best way to relax after a long day at Cartoon Networks Amazone Waterpark, Mega Wave only has one restriction: anyone who is under 100cm (approx. 3.5') must be accompanied by a supervising companion. Guests can enjoy this gigantic wave pool either by bobbing up and down on the waves or on a boogie board. In addition, during special occasions, Mega Wave will host some of the many live events offered by the waterpark which can stretch into the evening, making it the ideal place to relax and bask in the remaining rays of sunshine.