Pattaya's dining scene is eclectic and colorful. Many visitors enjoy simple dining and fine dining in Pattaya with thanks to the city's varied choices of local and international flavors and sometimes, a combination of both. Pattaya offers a vast array of local cuisine, including distinctive (yet delicious) Thai-styled curries, flavored rice pudding, mouth-watering street foods to locally made desserts. This beautiful seaside city has no shortage of delicious meals for adventurous tourists to try out. The city has a vast expanse of restaurant that caters to different audiences; from upscale restaurants to grabbing local (and homemade) dishes, Pattaya can indeed fulfill your culinary desires.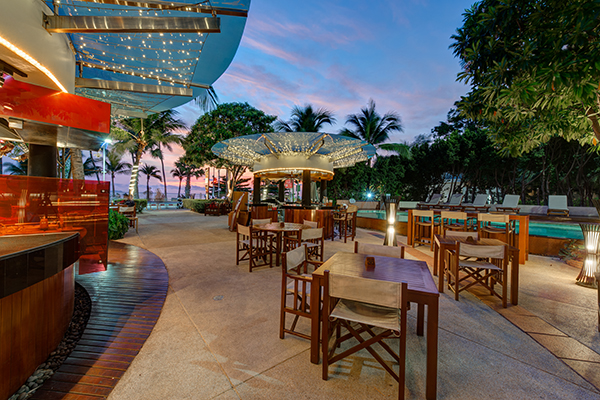 Fine Dining

There are a number of local restaurants that provide guests with an unforgettable experience plus an array of enticing menu options to satisfy the inner foodie. Most restaurants offer both exotic Thai and international cuisine. Restaurants, especially inside well-known hotels and resorts, offer an extensive array of Thai, Korean, Chinese, Cantonese, and Indian cuisine. Luckily, for visitors craving authentic Italian dishes, the Terrazzo restaurant can fulfill those needs. The restaurant delivers tasteful dishes in an open-aired kitchen environment, complemented with alfresco seating arrangements.
Restaurants in Pattaya are geared to provide guests with a memorable experience at Pattaya Bay.
Street Food Vendors
Eating out is very cheap, especially if you choose to eat from street food vendors. These food carts offer a variety of local and international food choices with options ranging from sushi, English muffins, and Italian pizza bites. Food connoisseurs highly recommend trying the local favorites at any of these food stalls. Street food vendors are plentiful, and many can serve you with bite-sized meals without hindering your ability to journey.
What to Eat?
Thai food is plentiful, no matter where you go. Since you're here, why not dig into authentic (and tasteful) Thai cuisine? Since this is a seaside city, trying out freshly caught seafood is a must. This range from deeply fried sea bass with fish sauce, charcoal-grilled calamari, imported scallops, mixed seafood with white wine and garlic are just some of the dishes to try out. Of course, for those who are allergic to seafood, there's always deep fried chicken wings in herbs, Tom Yum Kung, sizzling red, green and yellow curry, and plenty more.
Where to Eat?
With many choices of upscale restaurants to alfresco dining joints and street food carts, the city fulfills every food lover's desire with fine dining in Pattaya to enjoy local delicacies. Chonburi Province has the highest concentration of local restaurants, due to the high concentration of fruit, produce and fresh seafood markets available. Visitors will find many beachfront restaurants in this province. There is an unlimited section of food places in Pattaya that make choosing the best place to eat quite a challenge!
However, for those who want nothing more than to experience the inexpensive, local taste, street vendors throughout the city can satisfy your culinary cravings. Simple dishes such as Satay, Pad Thai, Seafood Fried Rice, Chines Noodles, Red Pork on Rice are just some of the few options available for an inexpensive lunch or dinner.