Holiday Inn Pattaya presents the best of gastronomic and culinary visionaries in an exciting IHG Culinary panel featuring the top award-winning celebrity chefs:
Theo Randall for Italian Cuisine

Ian Kittichai for Thai Cuisine

Dean Brettschneider for Bakery and Pastry

Sam Leong for Chinese Cuisine

Ross Lusted for Modern Australian Cuisine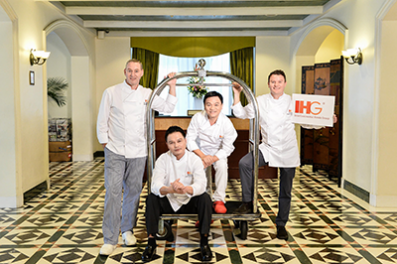 The chefs or IHG Culinary Ambassadors work closely with IHG F&B teams to develop 125 unique recipes for each IHG hotel restaurants across Asia, the Middle East, and Africa (AMEA). The aim of the panel is to continue building a comprehensive portfolio of cuisines varying in taste, texture, and presentation, providing an exceptional dining experience to the guests.
Chef Background
Each IHG Culinary Ambassador has created a stunning array of 25 recipes, ranging from appetizers to main courses and desserts. The IHG Culinary Panel will provide 125 recipes exclusively to IHG hotels in the AMEA region, working closely with each independent hotel's Head Chef and kitchen teams.
Theo Randall
With more than 25 years of culinary experience, Theo Randall has significantly contributed to InterContinental Park Lane, transforming the hotel into the Best Hotel in the UK for Food by Conde Naste Traveller. His previous experiences include assuming the role of Head Chef and partner at the critically acclaimed The River Café in London.
Sam Leong
Sam Leong, a famous Singaporean chef, has an extensive repertoire in the culinary scene. With more than 25 years of professional culinary experience, Sam Leong is considered the face of contemporary Singaporean and Chinese cuisine. Additionally, Sam Leong invented the popular 'Wasabi Prawns' and 'Coffee Pork Ribs' and even cooked for Queen Elizabeth II.
Ross Luster
Possessing more than 15 years of culinary experience, Ross Luster is the Head Chef and co-owner of the multi-award winning The Bridge Room in Sydney, Australia. He has additionally worked as a consultant for Qantas's First Class menu.
Ian Kittichai
Thailand's own Ian Kittichai has more than 30 years of professional culinary expertise and Ian is the prestigious winner of 'Gourmand Best Chef Cookbook'. In addition, Chef Ian is a founding council member of the World Street Food Congress – an organization dedicated to preserving Asia's 'street food' scene. His popular venue, 'Issaya Siamese Club' in Bangkok is one of Thailand (and Asia's) most popular restaurants of 2014.
Dean Brettschneider
Chef Dean Brettschneider possesses more than 20 years of culinary experience and is dubbed, the 'Pioneer of Modern Artisan Baking'. He has authored 11 cookbooks and is the host of the wide successfully television series, Kiwi Baker broadcasted around the world.
At Holiday Inn Pattaya, the hotel is committed to delivering the best culinary experience with the aid of celebrity chefs, developing and perfecting recipes, suitable for every guest. Guests can try out the vast selection of menus at the hotel's distinguished restaurants and bars: Terrazzo, Havana Bar, East Coast Kitchen, and Café G.