Pattaya, Thailand is such a high energy and fun tourist destination. While its nightlife can sometimes be wild, it does boast some impressive shows that are suitable enough for children aged twelve and older to watch. These must see shows that will entertain the kids and adults alike known as Ladyboy shows. These shows are abundant in Pattaya and feature high-octane dances filled with exciting musical pieces from around the world. Added to the flair are their over-the-top, dazzling costumes made to wow audiences. Mixing in famous songs with expertly choreographed steps, performed by talented individuals, these shows are a must-watch and will guarantee to keep the entire family entertained.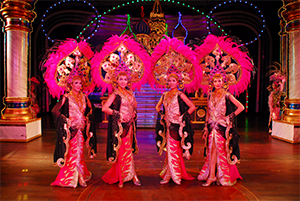 What is a Ladyboy Show?
The evocative name Ladyboy show might raise some eyebrows to the uninitiated, but you can be sure that this reaction is unwarranted. Ladyboy refers the entertainers are (or were once) all men. Additionally, these Pattaya shows are extremely tame and as surprising as it is; they are family-friendly.
Ladyboy shows are exciting, enjoyable, and even glitzy cabaret-styled performances that showcase expertly choreographed song and dance routines, fantastic performers, and glamorous, over the top outfits. In Pattaya, there are four notable shows: The Colosseum Show, the Alangkarn Show, and the Alcazar Show. The most renowned of the must-see shows in Pattaya is the Tiffany Show; that is the long-time host of the once yearly Miss International Queen beauty pageant that searches for the most beautiful ladyboy on earth.
Tiffany's Cabaret Show Venue and Costumes
The Tiffany Cabaret Ladyboy Show is held in a grandiose theater. This venue boasts an enormous faux-marble lobby in a bid to be as fabulous as the bedazzling costumes. The entertainers appear on stage decked out in outlandish plumes of feathers, gorgeous full length sweeping ballroom gowns, bare all polka dot styled swimsuits and impressive headdresses.
Tiffany's Cabaret Show Scenes
The audience is treated to an almost unbelievable explosion of colors, sounds, sights, and lights. The ladyboy show covers the entire Eastern hemisphere with skits, songs, and dances. There are scenes from China's breathtaking Imperial glory days to its impressive strides of modern-day progress, the Indian Raj as portrayed in Bollywood musical style, the Korean fan dance performed traditionally, and Thailand's fascinating history represented through elegant Thai dances. Besides this, the show includes a few crowd pleasers in the form of slapstick burlesque routines, and Broadway-styled show tunes.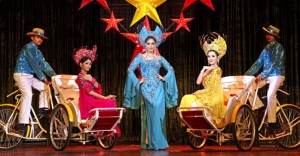 The Show-Stopping Tribute to Pattaya
Tiffanys' Cabaret Show, as with some of the other ladyboy outfits, pays homage to its hometown Pattaya in a pulse-pounding tribute. This highlight of the evening sports the transgender crossdressers preening, pouting, and miming along a beautifully portrayed backdrop of Pattaya's sleazy neon-bathed main street. The raunchy nature of the real-life cityscape parade is toned down for younger audiences without getting too explicit.
The Ladyboy Show Afterglow
Once the curtain falls on Pattaya's must-see family-friendly shows, the night is not yet quite over. The star ensemble cast is happy to pose for photographs with you outside the venue after the merriment finishes.
These shows are dazzling and exciting to watch without feeling overwhelmed by its musical numbers or performers. These professionals put on their best shows every night to please crowds from around the world. If you're planning on bringing your kids to these shows, it's highly recommended to do so. Sit back, relax and enjoy Pattaya's famous shows filled with color, glamor, and wonder.