The Holiday Inn Pattaya Bay Tower offers spacious rooms and suites, all of the amenities guests need to relax and feel at home, and scenic ocean views. Whether you're traveling for business or leisure, the hotel's friendly, knowledgeable staff will be ready to help you get the most of out your stay in Pattaya. Holiday Inn Pattaya has a variety of accommodation options and is located in a prime location, right alongside a world-renowned beach.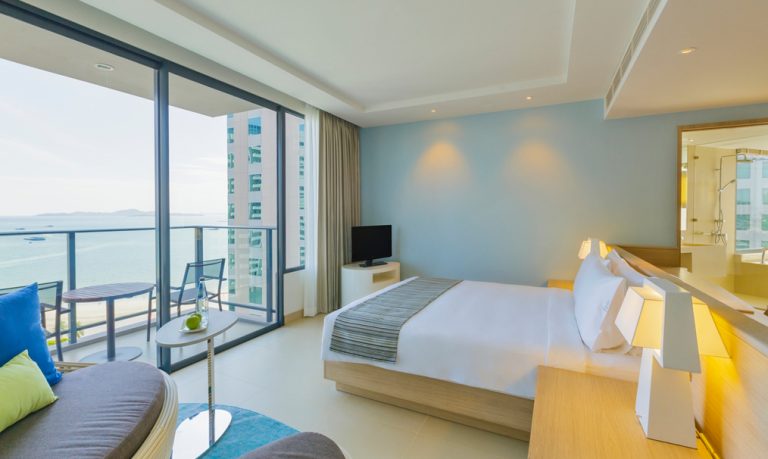 Comfortable and Family-Friendly Suites
Holiday Inn Pattaya Bay Tower has 567 guest rooms and suites contained in its Executive Tower and Bay Tower. Each tower features vibrant decor, and the Executive Tower is also host to the Executive Club, which offers breakfast, daytime refreshments, and evening drinks. In addition to its rooms and suites with an ocean view, the hotel has a family suite which contains kid-friendly decor and a separate children's room (Ocean View Family Suite) that is connected to a Pattaya Bay Room for the adults. All rooms feature contemporary furnishings, an LCD television, and high-speed Internet access.
Quality Amenities
Guests staying at the Holiday Inn Pattaya Bay Tower will find many complimentary amenities in their rooms, including a hairdryer, iron and ironing board, flat screen TV with cable, safety deposit box, and more. Also, some rooms come with rain showers, a private balcony, deluxe bathtub, workspace, and mini fridge. Transportation amenities include airport shuttle service and free on-site parking for guests. There are also two sparkling pools for visitors to enjoy, a self-serve laundry center, laundry service, room service, and concierge.
Business Services
Business travelers will find that the hotel's meeting and conference spaces have everything they need to put on a successful event. Holiday Inn is also home to Pattaya's first auditorium facility, which boasts 115 square meters of space. Holiday Inn Pattaya Bay Tower's business and meeting spaces can host a range of events, from concerts and workshops to lectures and presentations.
Fun and Relaxation
Holiday Inn Pattaya is ideal for travelers looking to unwind, and they even offer a Kid's Club and babysitting service so that parents can enjoy a worry-free evening at the resort. The hotel is situated just steps from the beach's tranquil waters and natural beauty. A fully-equipped fitness center is available for those who want to stay healthy during their travels, and the Tea Tree Spa offers a menu of packaged and a la carte services designed to refresh and rejuvenate guests.
World Class Dining
Visitors who want live music, a fun atmosphere, and excellent dining have to look no further than Holiday Inn Pattaya Bay Tower's four restaurants: Terrazzo, Havana Bar, East Coast Kitchen, and Café G. Terrazzo features Italian favorites and alfresco seating, the Havana Bar serves up Cuban and Caribbean delights and signature drinks, East Coast Kitchen is where diners can go for a breakfast buffet or delicious dinner, and Café G offers an all-day buffet of international dishes and live cooking demonstrations. For satisfying snacks, beverages, coffee, sandwiches, and pastries to-go, guests can go to Splash or Flow, both of which are located in the hotel's Bay Tower.