All You Need to Know About Terminal 21 Pattaya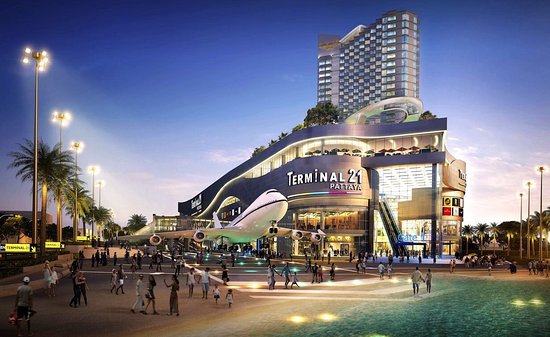 Although Pattaya is well-known for its seaside hotspots and activities, as well as the colourful nightlife scene, one major not-to-be-missed attraction is Terminal 21 Pattaya.

Inspired by the essence of travelling, the airport-themed mall features multiple countries within its build, while its exterior is complemented with a real-life airplane and a manmade beach.
The shopping mall offers a haven for shoppers with over 250 retailers lined on every level, each representing a different destination. Here you can expect various replicas of world-famous architecture from the Eiffel Tower on the ground floor to the Leaning Tower of Pisa on the first level.
Within a day, you will be able to journey through the likes of Tokyo, Italy, San Francisco, Hollywood and Paris, while classic airport signposts and those dressed in airport attire greet you.
While its concept is amazing as a standalone attraction, the experience is elevated through its offerings as well. Thus, here is a quick guide to Terminal 21 Pattaya for those who would like to take a break from the seaside shores and explore the world for a few hours.
Where is it?
Terminal 21 is located on North Pattaya Road beside Dolphin Roundabout. For those looking for a hotel near Terminal 21 Pattaya, it is approximately 1.2km from Holiday Inn Pattaya, where you can either take a four-minute drive or travel on foot as the mall is a nine-minutes away.
What to do?
While you can expect the usual international retailers from Uniqlo, H&M, Giordano to sporting goods such as Adidas and Asics, Terminal 21 Pattaya is also home to SFX Cinemas where you can catch a quick flick.
For those looking to try out local beauty brands, the mall is offers local favourites of Harnn and Panpuri, while international brands such as NYX and Boots are also available.
Meanwhile, Hahama on the fourth floor offers an activity zone that caters to those young at heart and families alike, complete with a playland, rope zone, trampoline and a playground – the perfect place to bring your kids!
Besides that, the mall includes money exchange and bank services, while special "tourist privileges" are made specifically for overseas travellers (which you can check out here).
What to eat?
Over at the food court on the third floor, which is named Pier 21, you can indulge in a multitude of affordable delicacies, including vegetarian offerings. A local favourite food spot and raved about by travellers due to its extremely affordable prices, the food court opens between 11am and 11pm. Nevertheless, do keep in mind that you would need to top up a card to pay the vendors – you can get the card from the counter at the entrance of the food court.
However, a walk around the mall would bring you to various restaurants offering Thai, Chinese, Indian, Japanese and Western delights, among other eateries to satisfy your cravings.
Explore Pattaya
While you are at Terminal 21 Pattaya, there are also various attractions nearby the mall you can venture to afterwards. So, to make your visit here worthwhile, we have listed a few:
• ART IN PARADISE: Only a five-minute walk from the mall, this 3D trick-eye museum is 400m away and offers an exciting art gallery of more than 100 pieces of humourous, as well as interactive three-dimensional paintings.
• Central Marina: Previously known as Central Center Pattaya, this quaint shopping mall is 600m from Terminal 21 Pattaya (which is a mere seven-minute walk away). It has gone through extensive renovation and is now a popular spot with retail stores, as well as eateries. Meanwhile, a live band serenades the area in the evening for those looking to kick-back with some tunes.
• Tuxedo Illusion Hall: A short 600m from Terminal 21 Pattaya and a seven-minute walk will bring you to this hall where a 45-minute spectacle of trickery and illusions await. This 350-seater theater is home to a magic show by Mr. Tuxedo, who is a master of deception and has represented Thailand on the international stage.
Find a hotel near Terminal 21 Pattaya
As we have mentioned, Holiday Inn Pattaya is a mere four minutes away in walking distance to the mall. Besides that, the hotel is also located nearby the lively stretch of Beach Road, while you can witness unrivalled coastline views from the private balcony and take in the beauty of Pattaya.
With that being said, here are five things you can do in Pattaya and what you should know about Pattaya before you visit.
So what are you waiting for? Book your stay at Holiday Inn Pattaya today because we are ready to welcome you.