Planning an upcoming trip to Pattaya, Thailand? This city, located in Chon Buri Province, is known for its world-famous beaches and exotic nightlife. While some of the best-known beaches among tourists can become quite crowded, especially on weekends, Pattaya offers some beautiful hidden away beaches that provide a much quieter and laid-back atmosphere.
For example, Naklua Beach is just a few kilometers away from the more famous Pattaya Beach but is more calm and relaxed, making it the ideal spot for a stroll along the sand. Make the most out of your Pattaya getaway and visit these gorgeous, secluded beaches.
Naklua Beach
Naklua Beach is close to the excitement of the city while still offering that secluded feel. North of Pattaya Beach, Naklua Beach was once known as a fishing community. Fishing and salt farming was done here for locals to make a living. Today, visitors can enjoy this beach escape while taking in the views of the surrounding old homes which set the atmosphere of this beach location.
Wong Amat Beach
Searching for the best place to sunbathe in privacy within Pattaya? Be sure to visit Wong Amat Beach. This beach is highly recommended for those who would simply like to sit back and relax in the sunshine. It is also one of the cleanest and most secluded beaches in the city. This beach adjoins to Pattaya Beach at the north end.
Jomtien Beach
Once paddy fields, Jomtien has now turned into a thriving, beautiful beach. Jomtien Beach is located 3 kilometers from Pattaya Beach and is becoming more popular because it is more laid-back and less congested than other beaches in the area. The golden sand and clear blue waters welcome in guests from all over the world. Modern comforts and accommodations can also be enjoyed nearby which is a major perk. Relax on a beach lined with coconut palm trees, swim, play and so much more. This beach is also a favorite spot for water sports such as windsurfing and jet skiing. Jomtien is also an excellent place to take the whole family, as it has an amusement playground located at the very northern end of the beach.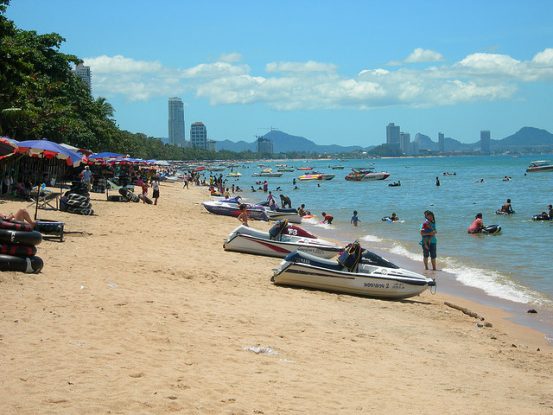 Koh Larn (Coral Island)
Koh Lan, also known as Coral Island, is located offshore of South Pattaya. This destination is truly a tropical paradise. Here you can enjoy clean, hidden away beaches and crystal clear water that you can completely see through. Koh Lan is a premier spot to enjoy a broad range of fun activities such as viewing coral through glass-bottom boats or by snorkeling. Take advantage of boat trips to other nearby islands in their secluded beaches and activities such as Koh Phai and Koh Sak.
Bang Sae Beach
Bang Sae Beach is located about 13 kilometers from the city of Chonburi. This is a popular destination among Thai locals but does not see many tourists. Visit during the month of October for the annual Water Buffalo Race. Vendors nearby the beach offer chairs, mats, umbrellas and tube rentals for your convenience. Nearby, you will also find quality restaurants and snack shacks that serve up some of the best mussels, fishcakes, and squid in all of Thailand.
Na Jomtien Beach
Na Jomtien Beach connects to Jomtien Beach on the south and is located in more of an upscale area. Locals and foreigners seeking privacy are sure to enjoy this beach. Na Jomtien's beach road is shaded by exotic trees and plants, complete with luxurious hotels and resorts so that you can enjoy your stay in style and comfort.